January 30, 2007
"Barbarella" Returning To The Big Screen
No,
not
Jane Fonda. Although, notwithstanding her seditious activity during Vietnam, it's hard for any man not to admit that - back in the day - she was pretty smokin' hot: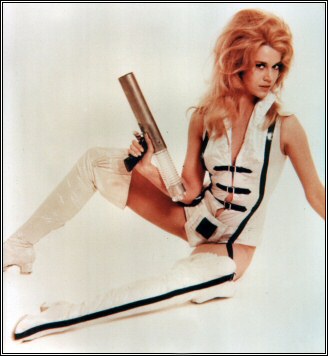 But word is that the man who brought us the original "Barbarella" back in 1968, is geared up to re-introduce the character into what I'm sure will be a multi-picture series.
Now out promoting his new film "Hannibal Rising", legendary film producer Dino De Laurentis confirmed to NBC30 that he's creating a new franchise with the character.

De Laurentis quickly stated up front that the new film is "not a remake of 'Barbarella"' but "a completely new 'Barbarella.'"

At present no-one has been cast in the project, and the script is being worked on right now and will incorporate "love, sex, [and] adventure".
DeLaurentis is also the producer or executive producer behind such iconic films as the 1976 version of
"King Kong"
,
"Flash Gordon"
,
"Conan The Barbarian"
and the last three Hannibal Lector
rip-offs
movies.
Since the casting choice for the lead has not been made, I'd like to humbly offer my suggestion: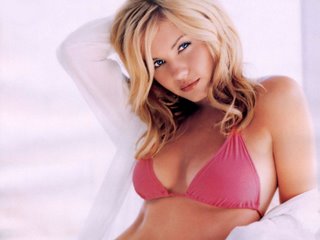 Kim Bauer!!!! (aka Elisha Cuthbert)
Photo filched from Blogs4Bauer.com
Posted by: Gary at 12:01 PM | Comments (2) | Add Comment
Post contains 202 words, total size 2 kb.
January 23, 2007
2006 Oscar Nominations (Or, "Movies I Didn't See")
OK, here are the
nominations
for this year's Academy Awards.
Here is a list of movies released in 2006, ranked by Total Domestic Gross (TDG).
Let's take the second list first. From that list, I can name the ones that I actually saw (with their TDG ranks):
#1. Pirates of the Carribean: Dead Man's Chest
#2. Cars
#3. X-Men: Last Stand
#6. Superman Sucks Returns
#7. Ice-Age: The Meltdown
#10. Over The Hedge
#18. The Break-Up
#19. Scary Movie 4
#26. Saw III
#29. Charlotte's Web
#39. Rocky Balboa
#44. Flushed Away
#47. Underworld:Evolution (on DVD)
#49. Poseidon
#51. Little Miss Sunshine
#84. Accepted (on DVD)
#92. United 93
#102. Clerks 2
#133. Hollywoodland
That's it. Obviously as a father of three you can tell that a) I don't go out much and b) I see a lot of movies with my kids. Actually, now that I look at the list I'm surprised I saw as many movies as that.
Now go back to the first list. What you find is a whole lot of movies I haven't seen. Granted the ones on my list aren't all necessarily Oscar-worthy, but there are a handful.
I really liked "Little Miss Sunshine" and I suppose I'll root for that long-shot for Best Picture.
But the motivation for me to sit through a three-plus hour long awards show where a bunch of people, who make a living pretending to be other people, honor each other as if they've solved world hunger or found a cure for AIDS is...?
Dirty Harry at Libertas puts it this way:
I havenÂ't seen any of these, but for the most part, neither has anyone else. I have actors IÂ'll root for because of my affection for them, but canÂ't base that on these particular performances...

...The Oscars bore me to death. I am thinking about live-blogging them, but that would mean actually watching, so IÂ'm not so sure.
That sounds about right.
Posted by: Gary at 11:52 AM | No Comments | Add Comment
Post contains 339 words, total size 2 kb.
19kb generated in CPU 0.0508, elapsed 0.102 seconds.
113 queries taking 0.0945 seconds, 227 records returned.
Powered by Minx 1.1.6c-pink.