February 17, 2006
This Is The New Bond Girl?!?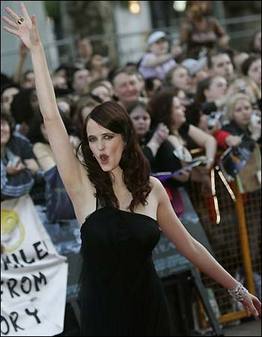 You've got to be kidding me. French actress Eva Green (who?) has been tapped to be in the new James Bond film, "Casino Royale".
"Eva is one of France's most accomplished young actresses, now receiving international acclaim," producers Michael G. Wilson and Barbara Broccoli said Thursday in a statement. "She brings to the complex role of Vesper an exciting combination of enigmatic and seductive beauty."
Ahem. Guys, the audiences for these films don't want to pay good money to see some "accomplished young actress" that
looks like the angel of death
! They want hot babes that look good in tight-fitting costumes and can credibly look like they know how to shoot a gun.
Does the script for "Casino Royale" call for a Goth chick or something? I had to reduce the picture size because she's so ghastly. What the hell has this franchise come to? First a blonde Bond, now this?
The movie takes place on the Riviera, right? Well, if she's got to be French, I'd like to offer a much more palatable alternative: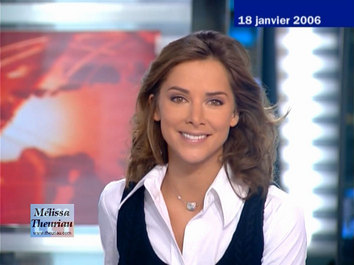 Hey, you want a Bond girl? Tune in tomorrow for the "80's Crush Of The Week" and I'll show you a real Bond girl.
UPDATE - 4:00pm:
In the meantime, they've also announced the new actress to play Lara Croft: Tomb Raider: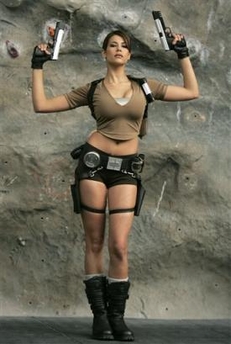 Oh yeah, THAT'S more like it. Guess which ticket I'm gonna buy? Face it, Lara Croft is the new James Bond.
Posted by: Gary at 03:15 PM | Comments (1) | Add Comment
Post contains 248 words, total size 2 kb.
February 06, 2006
Disney, Heal Thyself
If Disney President and CEO makes no other important decisions about the future of his company, he will have earned his pay by negotiating the recent purchase of Pixar. His predecessor, Michael Eisner, had so poisoned the existing partnership with the pioneer of computer-generated (CG) animation that this summer's release
"Cars"
would likely have been the last production released by Disney had Eisner still been around.
I've always felt that Disney hadn't released a single memorable non-Pixar animated film since "The Lion King", which is not coincidentally when Jeffrey Katzenberg - himself fed up with Eisner - left the company to start Dreamworks SKG with Steven Spielberg and David Geffen. Eisner was the worst possible CEO for a company that was founded on a commitment to quality family entertainment. He wielded his power like a tyrant, pushing out any source of dissent including forcing Roy Disney off the Board of Directors. It was no secret that most of people who worked under Eisner despised him.
While I was initially skeptical that Iger could engineer a turnaround for the media giant, I was glad to see this recent merger happen as a step in the right direction. Pixar CEO Steve Jobs made out pretty well too. In the deal, he garnered a 6% share of Disney stock and a seat on the Board of Directors. And the understanding between the two men is that Disney management will not interfere with the creative style of the Pixar group - a style that Disney had embraced in its earlier years. Maybe the Pixar culture could actually rub off a little on the current Mouse House.
The biggest plus for Disney in that John Lasseter will be in charge of the new business unit. Michael Levine describes today in the Washington Times why this is so significant:
Mr. Lasseter is the creative genius behind the Pixar animated films, and will bring back to Disney what the company's entertainment has been lacking in recent years -- strong story sense and characters children especially can find adorable.

That's no small thing. Characters drive the animated films, for sure, but they also are the major force behind many of the theme-park attractions and myriad products, television programming and corporate identity Disney has traded on so successfully in the past. Think about Buzz Lightyear, the entire Incredibles family, and Dory, the absent-minded fish voiced by Ellen Degeneres in "Finding Nemo." Now, try and think of one character from "Chicken Little" or "Atlantis: The Lost Continent." See the difference?
For the record, I thought
"Chicken Little"
was pretty decent. But on the other hand, it paled in comparison to such Pixar features as "Finding Nemo" and "The Incredibles", both films that go to the heart of the importance of family and the meaning of parenthood.
Bravo, Disney! Now get to work!
Posted by: Gary at 09:30 AM | Comments (1) | Add Comment
Post contains 476 words, total size 3 kb.
20kb generated in CPU 0.0178, elapsed 0.0656 seconds.
114 queries taking 0.0581 seconds, 227 records returned.
Powered by Minx 1.1.6c-pink.