April 27, 2006
"United 93" Endorsed By Father Of Todd Beamer
David Beamer, father of United Airlines passenger Todd Beamer who lost his life on that fateful flight, says the filmmakers "got it right". He wrote an
Op-Ed in the WSJ Online today
. He calls the film a wake-up call to a nation coming perilously close to forgetting the events of that day and enemy that we now face.
"There are those who would hope to escape the pain of war. Can't we just live and let live and pretend every thing is OK? Let's discuss, negotiate, reason together. The film accurately shows an enemy who will stop at nothing in a quest for control. This enemy does not seek our resources, our land or our materials, but rather to alter our very way of life.

I encourage my fellow Americans and free people everywhere to see 'United 93.'

Be reminded of our very real enemy. Be inspired by a true story of heroic actions taken by ordinary people with victorious consequences. Be thankful for each precious day of life with a loved one and make the most of it. Resolve to take the right action in the situations of life, whatever they may be. Resolve to give thanks and support to those men, women, leaders and commanders who to this day (1,687 days since Sept. 11, 2001) continue the counterattacks on our enemy and in so doing keep us safe and our freedoms intact.

May the taste of freedom for people of the Middle East hasten victory. The enemy we face does not have the word 'surrender' in their dictionary. We must not have the word 'retreat' in ours. We surely want our troops home as soon as possible. That said, they cannot come home in retreat. They must come home victoriously. Pray for them."
Some people muse the the release of this film may be too soon. My concern is that, for some, it may be too late.
Hat tip: Libertas
Posted by: Gary at 02:31 PM | Comments (4) | Add Comment
Post contains 336 words, total size 2 kb.
April 18, 2006
Irony
This is the movie poster for Al Gore's "global warming" scare flick: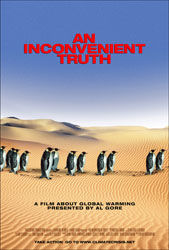 Does anyone else see the pack of penquins blindly following each other into a desert as a metaphor for the radical environmentalist movement?
Posted by: Gary at 03:38 PM | No Comments | Add Comment
Post contains 37 words, total size 1 kb.
April 03, 2006
"Basic Instinct 2" Goes Over Like A Turd In The Punchbowl
Well, despite the prospect of
seeing 48-year old Sharon Stone stark naked
and performing deviant sex acts, the much-hyped sequel to
"Basic Instinct"
made
as much money this weekend as "Larry The Cable Guy: Health Inspector"
(which is in its second week of release).
And who does the director of the original film blame? The U.S. government. No, really?!? Dutch-born Paul Vernoeven, the man who brought you such flops as "Showgirls" and "Hollow Man", says that the American government has been foisting its Christian values on its citizenry, making them unwilling to embrace "erotica".
"Anything that is erotic has been banned in the United States," said the Dutch native. "Look at the people at the top (of the government). We are living under a government that is constantly hammering out Christian values. And Christianity and sex have never been good friends."

Scribe Nicholas Meyer, who was an uncredited writer on 1987's seminal sex-fueled cautionary tale "Fatal Attraction," agrees, noting that the genre's downfall coincides with the ascent of the conservative political movement.

"We're in a big puritanical mode," he said. "Now, it's like the McCarthy era, except it's not 'Are you a communist?' but 'Have you ever put sex in a movie?'"
Oh, give me freakin' break. A country that has spent (to date) $82 million to see a love story between two gay sheep herders is in a "big puritanical mode"? Nice try, guys. But the sad truth is that
the movie SUCKED
Even people who are really into "erotic" thrillers could see this one for what it is: a rehashed concept without any of the elements that made the original so popular.
Posted by: Gary at 11:26 AM | Comments (2) | Add Comment
Post contains 294 words, total size 2 kb.
25kb generated in CPU 0.0206, elapsed 0.1178 seconds.
114 queries taking 0.1082 seconds, 235 records returned.
Powered by Minx 1.1.6c-pink.