January 24, 2006
Magnum, P.I. - The Movie
Hollywood is reporting that a theatrical film of the TV show
is in the works
.
[Rawson Marshall] Thurber, who wrote and directed the hit comedy "Dodgeball: A True Underdog Story," is not making a spoof but rather something akin to the tone of the show, which mixed humor and danger. The story line for the film sees Magnum, with the help of his former military pals, searching for a missing buddy.
Call me sentimental but I can't think of a single reason for not bringing back the old cast, at least Tom Selleck. I don't know what they're planning but who else could possibly play Thomas Magnum?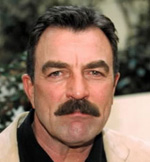 I mean, honestly, who?
Posted by: Gary at 03:36 PM | Comments (1) | Add Comment
Post contains 118 words, total size 1 kb.
January 23, 2006
"Brokeback" Not Exactly Breaking The Box Office
Despite
Variety's predictions
that "Brokeback Mountain" could reach as high as number two this weekend, the film
barely finished at number five
ahead of Jim Carrey's remake of "Fun With Dick And Jane" but behind the new Queen Latifah comedy "Last Holiday". The indy love story about two gay cowboys isn't exactly "on fire" despite garnering so many Golden Globe awards last week.
If fact, the number one film this weekend, "Underworld: Evolution", earned more in its first three days than "Brokeback Mountain" managed to gross after five weeks of release. The reason? Kate Beckinsale is smokin' hot! That's what guys want to see.
Look, your average straight male isn't going to go see "Brokeback". And the critics will say it's due to homophobia. But the reality is that it's due to indifference. Your average Joe Six-pack just has no interest in seeing any love story, much less one that looks like a sausage convention. For all the buzz about this film, it's really nothing more than a chick flick. It's one for the wife or significant other to go see with her friends. Fair is fair. Would she go along with you dragging her to see "Hostel" (which BTW has also grossed more than "Brokeback" in less than half the time)? I don't think so.
Hey, do you have any idea what it takes for the Mrs. to drag me to ANY movie that's billed as a love story? If I'm going to go through the aggravation of getting a sitter, dealing with the crowds and plopping down $19 for us to go to the multiplex, it damn well better feature a sweet-looking lead actress (and a couple of decent-looking supporting actresses as well).
It should come as no surprise that "Brokeback" has limited appeal. But try as they might, the Hollywood elite are not going to convince the vast majority of men that they should appreciate this kind of film and if they don't that there is something wrong with them. One thing you can count on, however, is that the more the box office returns continue to underwhelm, the more likely that "Brokeback" is guaranteed an Oscar for "Best Picture".
That'll show those knuckle-dragging Neanderthals! Whatever, dude.
Posted by: Gary at 09:45 AM | Comments (1) | Add Comment
Post contains 384 words, total size 2 kb.
January 04, 2006
Review: "V For Vendetta"
No I didn't see this crap. But "The Road Warrior" did
a guest review
over at the Conservative Film site
Libertas
. Not only does the movie completely suck but he makes a ton of great observations about how it's basically a huge Left-Wing paranoid fantasy, and explains how those on the Left
are
what they claim to fear. A great read.
Posted by: Gary at 05:00 PM | Comments (1) | Add Comment
Post contains 69 words, total size 1 kb.
21kb generated in CPU 0.0143, elapsed 0.0684 seconds.
115 queries taking 0.0603 seconds, 230 records returned.
Powered by Minx 1.1.6c-pink.