December 21, 2006
"Rocky Balboa" Is A Winner: My Review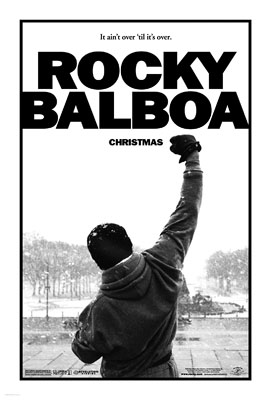 When I first heard about this project, I (like most of you out there) was very skeptical – and even a little cynical – about it. My first thought was "why?".
The last Rocky movie was very disappointing on so many levels that I couldnÂ't imagine another installment of this franchise being worth seeing. IÂ'm sure there are a lot of you out there who feel the same way.
Well, I saw "Rocky Balboa" last night in a packed theater full of enthusiastic people who wanted – and fully expected – a satisfying experience. They got what they paid for. When you look back at the entire series of Rocky movies a lot of fond memories come to mind. But in the big picture, you can break them up into three groups. First, there was Rocky and Rocky II. These films were about heart. They were about overcoming self-doubt and meeting adversity with passion and defiance. They were about getting back up when you could just as easily stay down and let the pain pass.
They were about understanding what the important things were in life and fighting for them.
Next, you had Rocky III and Rocky IV. Both of these films were intended to echo the same themes as I and II. And while they were both very exciting, when it came right down to it these films were really about ratcheting up the challenge in order to top the previous one. And the audience became less concerned with seeing Rocky overcome obstacles as they were with seeing the bad guy get his ass handed to him. They became more about vengeance – against Clubber Lang for Mickey and Ivan Drago for Apollo.
Then, of course, you have Rocky V. I have no idea what this movie was about. Having seen "Rocky Balboa", I think I now understand what Sylvester Stallone was trying for, which was to get back to Rocky's roots. In other words, it should have been about returning to the themes of the first two films. It failed miserably, and Stallone understood this. Which is why he felt so strongly about making "Rocky Balboa". He needed to finish out this franchise on a high note, both for his fans and for himself. It's something that needed to be done.
In my opinion (and based on the response of the audience around me), he did it.
At this point, I won't try to force-rank "Rocky Balboa" with the earlier films. Suffice to say that it was more like Rocky and Rocky II than any of the others. And it's a worthy conclusion to the story arc.
And I'm not going to waste time with a synopsis. There are plenty of places on the 'net to find one. "Rocky Balboa" reminds us of what we loved about the character in the first place. Rocky is less a larger-than life champion now as he is a good guy from the old neighborhood. There are many blasts from the past that bring a lot of symmetry to the story. And there are many laugh-out loud moments to remind us that while the movie is about serious things it doesn't take itself too seriously.
If there is one concept that drives the story it is this: life is tough and it will constantly hit you in the gut when you least expect it. But a measure of our character is how we react to these punches. Do we wallow in self-pity, blaming others for our misfortunes? Or do we accept the challenges and face up to them – win, lose or draw? Like Rocky, do we find that inner reservoir of strength to take control of our lives by pushing ourselves out of that corner and swinging back?
Halfway through, there is a scene where Rocky's (now grown-up) son, Robert, implores him not to go through with the fight for reasons that have to do with the difficulty of living in his father's shadow. Rocky gives his son an emotional speech about life that one reviewer described as worth the price of admission alone. I tend to agree.
I find it amazing that Bill ContiÂ's famous theme still makes the adrenaline pump. ItÂ's almost Pavlovian. Even some of the more corny aspects of "Rocky Balboa" make it endearing. And the crowd was into it from start to finish. Lately, full theaters make me a little claustrophobic and I try to avoid them as much as possible. But in this case, it made the movie better.
If you plan to see this in the theater, by all means I recommend going sometime between now and Christmas, when the seats will be filled each evening.
Posted by: Gary at 08:38 AM | Comments (9) | Add Comment
Post contains 796 words, total size 5 kb.
1
Gary - I NEVER go to see movies in the theatre - but you actually made me want to do so to see this film. THAT is doggone good writing, fella!
Posted by: Gayle Miller at December 21, 2006 02:37 PM (fa58m)
2
There hasn't been a whole heck of a lot in the news lately to spur me into posting anything very original. This movie helped knock me out my funk. Thanks for saying so. :blush:
Posted by: Gary at December 21, 2006 02:51 PM (PLHs9)
3
I must be like, the only person alive who never liked the Rocky movies. :wink:
Posted by: Jenn at December 21, 2006 03:22 PM (QD9ey)
4
Gary, That was one helluva review. I had no desire to see another failed sequel. But you've made me interested in giving it a chance. I enjoyed III and IV; but they were a lot different from the first 2. III and IV seemed to embrace the Rambo superhero archetype of the 80's. They were fine, in their own right; but seemed to drift from the original two, holding appeal to a select audience, and not the broader mainstream, Oscar-drama-loving crowd. I don't even remember V. I think I only caught a portion of it on tv; or someone rented it, and I walked into the room by accident, and midway through.
Posted by: wordsmith at December 21, 2006 03:31 PM (WpT+h)
5
Hopefully, you immediately turned around and walked right out!
Posted by: Gary at December 21, 2006 04:28 PM (QoxB+)
6
Now, I enjoyed Rocky's I-IV as much as the next person, but seeing the previews for "RB," with Stallone's duh-noying accent...all I can imagine is Gary and a bunch of Northerners, crammed into the warm theaters, in their heavy coats, avoiding the cold, numbed into thinking they are watching quality entertainment. I'm sorry, but...is this just a "Northern thing?" In other words...since I don't have "y'all's" kind of accent, am ah just not gonna git it? (Be nice to me, I'm related to our gracious host...)
Posted by: Georgia Girl at December 21, 2006 09:52 PM (t/eS0)
7
P.S. Gary, you need to change the poll. I could have caught up with all five seasons by now... Come up with something Holiday'ish. See you Monday...
Posted by: Georgia Girl at December 21, 2006 09:56 PM (t/eS0)
8
Georgia Girl, Are you an American? Ok dumb question. Rocky has - and always will - stand for the heart of what America is. Too many people write it off instantly because of some dopey accent or because it's a "boxing movie". While it contains these aspects, its main theme is that when the world kicks you and hope seems lost, get your butt up and fight. Succeed. Believe in yourself even when others think you'll fail. I'd be suspicious of anyone who watches Rocky and sees it as just some "stupid boxing movie" about some guy from Philadelphia who likes to get hit in the face and talks like a bum. I'd be suspicious that those people are the ones who will run the instant the chips are down...
Posted by: Digger at December 22, 2006 01:39 AM (qBgs7)
9
I was skeptical about this too but Rush (who rarely has guests on his show) had Sly on and was very impressed with the movie. After hearing that and seeing your review I actually want to see it too.
Posted by: Little Miss Chatterbox at December 24, 2006 05:01 PM (ZfLHN)
Comments are disabled. Post is locked.
23kb generated in CPU 0.014, elapsed 0.0793 seconds.
115 queries taking 0.0717 seconds, 246 records returned.
Powered by Minx 1.1.6c-pink.