April 09, 2006
If You're Gonna Piss 'Em Off...
...Do it in spades.
Ann Coulter the high-priestess of the Right is releasing her new book, "Godless: The Church Of Liberalism" on 6/6/06.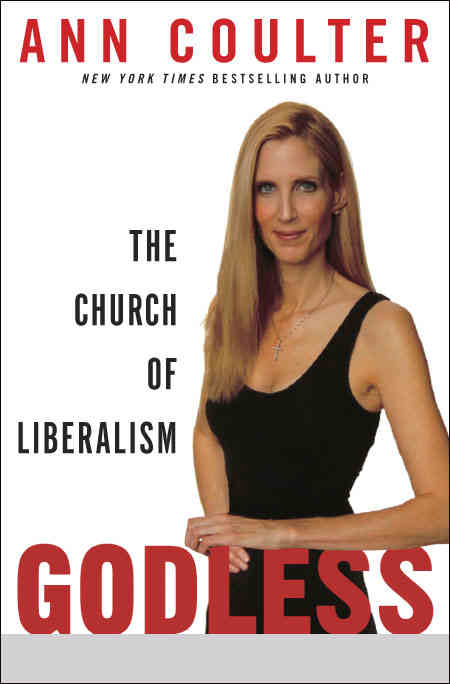 With a first printing of 500,000, Ann is on record as receiving one of the largest advances ever paid to a conservative author. I'll bet no fewer than 1/4 of the copies sold will go to people who despise her just to see what she's written...so they can burn it.
I've had my differences on occasion with Ann Coulter but I have to admit she's as close to a rock star as the Right has. She pulls no punches and seems to seek out controversy. Should be interesting.
Posted by: Gary at 08:46 PM | Comments (3) | Add Comment
Post contains 123 words, total size 1 kb.
1
She could do with better design concept for the cover though. Yawn.
Posted by: Stephen Macklin at April 09, 2006 09:29 PM (DdRjH)
2
Interesting...on April 4th you comment on "Feeling the Hate" (Democrats anger with Bush & his administration), but when Ann Coulter exhibits the same traits she's merely described as "pulling no punches". I guess I'm just trying to determine what the difference is - I'm not a hateful person and I don't think that hate from either side is going to solve the problems we face as a country.
Posted by: Bob in SC at April 10, 2006 08:26 AM (i+f4i)
3
I disagree that Coulter "exhibits the same traits" as the folks I wrote about in the "Feeling The Hate" post. She lampoons the Left in her books and does so pointedly because she likes to get a rise out of them. Is it derived from "hate"? It can be perceived that way but when I say she "pulls no punches" I mean when she's poking Liberals with a literary stick. If there wasn't an element of truth to what she writes, it wouldn't strike such a nerve among the Left. They would just laugh her off as a fringe kook. Kind of the way the Right sees Al Franken. But the Left's reaction to Coulter is actually the kind of thing I was referring to in the other post. They absolutely despise her. Scroll through some of the comments on sites like DailyKos and you'll see some pretty sick shit written about her (and what they'd like to do to her). That being said, I agree that hate on either side is counterproductive. I just see a difference between a pundit who parodies her political opposites and people who wish that someone would assassinate the President.
Posted by: Gary at April 10, 2006 10:56 AM (QoxB+)
Comments are disabled. Post is locked.
16kb generated in CPU 0.0523, elapsed 0.1205 seconds.
115 queries taking 0.1101 seconds, 240 records returned.
Powered by Minx 1.1.6c-pink.