December 31, 2005
Giants v. Raiders
UPDATE: 11:40pm
HAPPY BLUE YEAR!!!!!!
NY GIANTS NFC EAST CHAMPIONS!!!!!!
----------------------------------------------------------------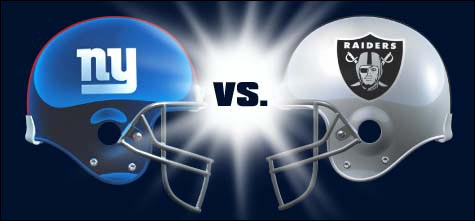 Well, this is it. Win here and the Giants take the division and lock up home field advantage for next week's playoff game. Lose and the Redskins can steal the division away and next week's game is on the road. And we all know how the Giants have been playing on the road.
And they're on the road here today. But the Oakland Raiders are 2-5 at home. Had the Giants gotten it done last week this game would not only have been meaningless but probably NO one outside of a die-hard NY fan would have bothered tuning in at 8pm on New Year's Eve. The Raiders fans will be watching (the ones that do, that is) at 5pm PST. They've got plenty of time for New Year's revelry.
But Giants fans are screwed. Watch the game and piss off the wife/girlfriend or run around with a transistor radio trying to catch the latest score. It's a no win for Giants fans.
But the Giants MUST win. Honestly, I care more about the division than anything else. The Giants can win a playoff game at home, but they won't advance very far - especially with their linebacker corps depleted with injuries. And even if they did, the AFC will own the championship this year.
Nope, I said it last week but I really mean it this time. NY needs to Git 'Er Done tonight. No excuses.
Posted by: Gary at 01:45 PM | No Comments | Add Comment
Post contains 253 words, total size 2 kb.
Comments are disabled. Post is locked.
15kb generated in CPU 0.0317, elapsed 0.141 seconds.
113 queries taking 0.1219 seconds, 236 records returned.
Powered by Minx 1.1.6c-pink.