December 17, 2005
Giants v. Chiefs
UPDATE:
GIANTS WIN BABY!! 27-17!!
Congratulations to Tiki Barber for a single game performance of 29 touches for 220 yards. The best in the NFL and a record, too. The best in Giants franchise history!
Go 'Skins!!
-------------------------------------------------------------------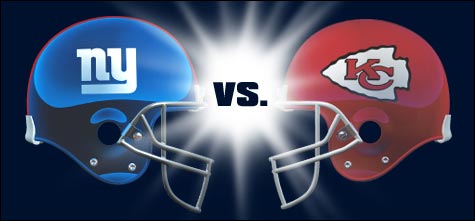 OK, thanks Mr. Tagliabue. The next three weekends will feature Giants games on Saturday. Great. Today's is at 5:00pm, right around dinner time and right before the wife is going to want me to watch some lame movie on DVD that I managed to avoid when it was out in the theaters. You're all heart, dude.
Well, the Chiefs were on the verge of victory last week at Texas Stadium. And a stupid mistake on their part gave the Cowboys a chance to pull a victory out of their asses, which is exactly what they did. Dallas should have lost that game. And as a result you have a Cowboys team still nipping at the Giants' heels and a pissed off Kansas City team who's looking to bounce back this week at Giants Stadium.
Now the Chiefs are a good team, but four of their five losses have been on the road. They have a killer rushing attack at Arrowhead Stadium and it's not too shaby away from home either. But the Giants have a home edge here, being 6-1 at the Meadowlands (7-1 if you count the New Orleans game). Last week's game at Philly cost them dearly when they lost LB Antonio Pierce. If they're going to stop the Chiefs' running game it's going to be tougher without Pierce.
Now the Giants need to win two of the last three games to guaranty themselves a Division Title, and one of those wins needs to be against Washington next week. They can lose today and still win the division but they need to stay focused on today's game. The Chiefs are playing for a Wildcard spot in the AFC, and if they lose today they're in deep shit.
Thus far the Giants have met my expectations going into this season. Winning the division would be icing on the cake. Surviving the first round of the playoffs would be pretty sweet too. I have no doubt that New York will not make it far in the post-season. There are just too many better teams in the NFC. And the Colts will probably win it all. A Manning will likely get a Superbowl ring this season but it's not going to be Eli.
So here we go. It's nice to be actually playing for something this deep into December for a change.
Posted by: Gary at 01:40 PM | Comments (1) | Add Comment
Post contains 435 words, total size 3 kb.
Posted by: Haximus at December 20, 2005 10:57 PM (i5atp)
Comments are disabled. Post is locked.
16kb generated in CPU 0.011, elapsed 0.0716 seconds.
115 queries taking 0.0659 seconds, 238 records returned.
Powered by Minx 1.1.6c-pink.