December 27, 2006
Gerald R. Ford (1913 - 2006)
The 38th President of the United States
died yesterday
at the ripe old age of 93.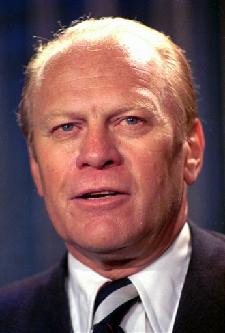 I was too young to have any real memories of Ford. Unfortunately, my earliest recollections are of either Chevy Chase falling all over himself on SNL or the goofy caricature from the movie "The Pink Panther Strikes Again".
He had a thankless job, succeeding Richard Nixon in the wake of Watergate. And he had been previously chosen for Vice-President in the wake of Spiro Agnew's humiliating resignation. Nixon's choice was driven by the fact that, as a legislator, Ford was a popular and non-controversial guy who would have no problem being confirmed by Congress. He goes down in history as the only President to serve who never received a single vote as either President or Vice-President.
He may or may not have been the ideal person for the job considering the state of the nation at the time. But he did his best. He served his country in WWII and many years in the Congress. And by all accounts he was a really nice guy. He will probably never be ranked in the top ten (or even top thirty) list of past Presidents. But to the people who knew him, he'd rank way up there as a husband, a father, a friend and an American. R.I.P.
That leaves Jimmy Cower Carter as the oldest surviving President. How old is he anyway? Isn't it about time for that miserable failure to take the old dirt nap?
Posted by: Gary at 09:00 AM | No Comments | Add Comment
Post contains 263 words, total size 2 kb.
Comments are disabled. Post is locked.
15kb generated in CPU 0.0143, elapsed 0.0827 seconds.
113 queries taking 0.0753 seconds, 236 records returned.
Powered by Minx 1.1.6c-pink.