April 03, 2006
Be Skeptical, Be Very Skeptical
Last week's cover of Time: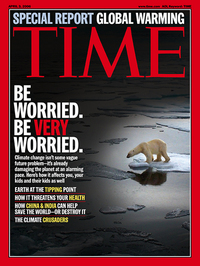 Scaring people must drive circulation up. What other reason would there be to waste time on an unproven theory? George Will reminds us that it was only about thirty years ago that these same "experts" had nothing but dire warnings for the coming Ice Age:
While worrying about Montana's receding glaciers, Schweitzer, who is 50, should also worry about the fact that when he was 20 he was told to be worried, very worried, about global cooling. Science magazine (Dec. 10, 1976) warned of "extensive Northern Hemisphere glaciation." Science Digest (February 1973) reported that "the world's climatologists are agreed" that we must "prepare for the next ice age." The Christian Science Monitor ("Warning: Earth's Climate is Changing Faster Than Even Experts Expect," Aug. 27, 1974) reported that glaciers "have begun to advance," "growing seasons in England and Scandinavia are getting shorter" and "the North Atlantic is cooling down about as fast as an ocean can cool." Newsweek agreed ("The Cooling World," April 28, 1975) that meteorologists "are almost unanimous" that catastrophic famines might result from the global cooling that the New York Times (Sept. 14, 1975) said "may mark the return to another ice age." The Times (May 21, 1975) also said "a major cooling of the climate is widely considered inevitable" now that it is "well established" that the Northern Hemisphere's climate "has been getting cooler since about 1950."
Are surface tempuratures rising by a percentage of a degree? Sure. But then the rising and falling of surface temperatures is a phenomenon that has been recorded since...well since they've been recording surface temperatures.
That
is an empirical and undeniable fact. Ten years from now we'll probably be back on the "global cooling" thing. And once again the "experts" will be saying it's our fault.
The forces of nature are mightier than anything humans can dish out. Until someone somewhere can come up with some undeniable proof that human activity is in any way linked to this natural process, I remain skeptical...very skeptical.
Posted by: Gary at 08:30 AM | No Comments | Add Comment
Post contains 346 words, total size 2 kb.
Comments are disabled. Post is locked.
16kb generated in CPU 0.0138, elapsed 0.0802 seconds.
113 queries taking 0.0733 seconds, 236 records returned.
Powered by Minx 1.1.6c-pink.