May 05, 2006
Rumsfeld Heckled By Bitter Ex-CIA Kook
SecDef Donald Rumsfeld
was confronted by conspiracy-theory spinning former intellingence analyst Ray McGovern
at a press conference yesterday.
AllahPundit chronicles prior incidences of when this moonbat was off his meds.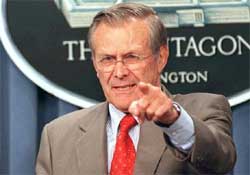 "General, sometimes there just reaches a moment when I can no longer suffer fools like that one gladly. Soon as this presser is done, I want you to get me Jack Bauer on the phone."
Posted by: Gary at 01:17 PM | No Comments | Add Comment
Post contains 77 words, total size 1 kb.
13kb generated in CPU 0.012, elapsed 0.0552 seconds.
111 queries taking 0.0476 seconds, 221 records returned.
Powered by Minx 1.1.6c-pink.