November 13, 2005
"Mad" Howard Dodges Joint TV Appearance With GOP Chair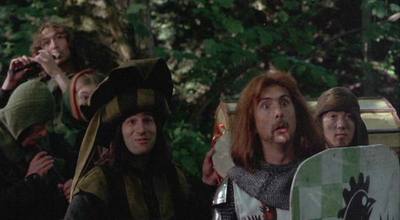 DNC Chairman Howard Dean, AKA Brave Sir Robin of Camelot, just can't seem to muster the courage to appear along side Ken Mehlman. Drudge breaks the story:
The DRUDGE REPORT has learned from exclusive sources that Democrat Party Chair Howard Dean turned down Republican Party Chair Ken MehlmanÂ's last minute offer to appear together on NBCÂ's MEET THE PRESS this morning.

Moments before taping was to begin with host Tim Russert, Mehlman asked Dean outside the NBC studio's green room: "There's still time for us to go on together Governor." Dean declined with a shrug of his shoulders and an uncomfortable cackle and then proceeded to walk away into the green room.

DRUDGE has learned MEET THE PRESS producers have been working to get a head to head Dean/Mehlman appearance on the program since Dean was named chair back in February. Dean and his handlers have repeatedly turned down the request. The former Vermont governor only agreed to do this weekÂ's program if they appeared in back-to-back interviews.
Geez, even Terry McAuliffe had the balls to actually debate his RNC counterparts.
But then what would Dean do if all his bullshit accusations against the President were confronted with the facts. He'd probably have a similar reaction to that of the real Sir Robin when he was asked at the Bridge of Death, "What...is the capital of Assyria?"
He'd bluster, turn red and pop a vein in his head shouting "I don't know THAT!! AAAARRRRRGGGHHHH!".
As Dean left the studio, one of his handlers was overhead singing after him:

Brave Sir Robin ran away.
Bravely ran away away....
When Danger reared its ugly head,
He bravely turned his tail and fled
Yes brave Sir Robin turned about
And gallantly chickened out...
Posted by: Gary at 12:07 PM | No Comments | Add Comment
Post contains 306 words, total size 2 kb.
Comments are disabled. Post is locked.
15kb generated in CPU 0.0297, elapsed 0.0876 seconds.
112 queries taking 0.0746 seconds, 229 records returned.
Powered by Minx 1.1.6c-pink.