August 09, 2006
Joe And Me
I'd like to step back a bit with some personal reflections about Joe Lieberman. Joe and I go way back. No, we've never actually met. But my own political history is very much tied to his career as CT's Senator over the last 18 years.
more...
Posted by: Gary at 03:00 PM | No Comments | Add Comment
Post contains 874 words, total size 5 kb.
August 04, 2006
Familiarity Breeds Contempt
GA Congresswoman Cynthia McKinney is
planning on showing an ad 1,175 times
in the five days leading up to the Democrat primary.
Um, won't this make those constituents who are already sick to death of her even more motivated to vote her out?
Posted by: Gary at 10:26 AM | No Comments | Add Comment
Post contains 49 words, total size 1 kb.
August 02, 2006
Imbecilus Ex Machina (Idiots Out Of The Machine)
That's about how you could describe the waning strength of the old-time Democrat political "machine" these days. The WaPo reports on
all the internal difficulties
the party of Reid, Pelosi, Dean and Murtha are having in trying to ensure that they get out the vote this fall.
There's finger-pointing and sniping all around as none of the organizations - the DNC, the DCCC and the DSCC - can find unity in their approach to campaigning:
Democrats consider the 2006 elections their best chance in a decade to recapture the House, with widespread unease over Iraq and with Republicans lagging in polls. Rep. Charles B. Rangel (N.Y.), who would become chairman of the Ways and Means Committee if Democrats picked up the 15 seats needed to regain the majority, said in an interview yesterday that he will quit Congress if the party does not capitalize on an unparalleled opportunity.

Democrats' organizing has been slowed by a philosophical dispute between Dean, who argues that the party needs to rebuild its long-term infrastructure nationwide while trying to win back the House and Senate, and congressional Democrats, who want to use party resources for an all-out push this fall.

Charles E. Schumer (N.Y.), chairman of the Democratic Senatorial Campaign Committee, is less concerned about the Dean approach than House leaders are. "We are obviously concerned," a senior Senate Democratic strategist said, but Schumer moved ahead two months ago with a plan to fortify get-out-the-vote operations in 15 states, including targeting disgruntled Republicans. Democrats sympathetic to Dean said Emanuel and Pelosi are trying to blame the DNC chief in case they do not win back the House.
Rangel will quit if Democrats don't take the House? Where've I heard that one before? I suppose he'll threaten to move to Canada next. Of course, just the possibility of Charlie Rangel chairing the Ways and Means Committee is incentive enough for even the most dissolutioned Republican coming out on November 7th.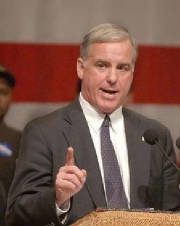 "Frankly, I like our chances in States like Wyoming and Mississippi."
But there's good reason for Democrats to be concerned because the GOP "machine" - after years of ineffectiveness - has improved itself every election cycle since 2000.
Republicans are far more united in their approach, building on what both sides said worked well in 2002 and 2004. They are routing all turnout efforts through the Republican National Committee, which had $45 million in the bank -- four times as much as the DNC -- as of June 30.

The RNC runs a strategy known in political circles as the 72-hour program. It focuses on using phone calls, polling data and personal visits to identify would-be GOP voters and their top issues early in the cycle. The information is then fed into a database, allowing party leaders to flood them with pro-Republican messages through e-mail, regular mail and local volunteers. On Election Day, they receive a phone call or a visit to remind them to vote.

A GOP strategist involved in the effort said the RNC did a post-election review of every person it contacted, looking at how many times they were reached, which issues were discussed and whether they voted. This information was supplied to about 30 targeted states earlier this year, and RNC officials track the states to see whether they are reaching goals for adding new names and contacting old ones.

Both parties credit this program with putting President Bush over the top in Ohio in 2004 by exceeding GOP turnout projections in key areas.
Sorry, moonbats. Ohio wasn't "stolen". You can blame all those real-live honest-to-goodness Republicans that came out on election day - and the party's organizational strength that got them to the polls.
For all their talk about this November being such a huge opportunity, the current state of the Democrat party isn't helping its chances to take advantage of it. John Hinderaker at Powerline puts it this way: "It's hard to believe that such a momentous election could turn on organizational incompetence on the part of the Democrats, but, hey--we can always hope."

Posted by: Gary at 09:45 AM | No Comments | Add Comment
Post contains 686 words, total size 5 kb.
August 01, 2006
Kerry Attracts More Flies Than Supporters In Iowa
MA Sen. John "I was almost President before I wasn't" Kerry headed to Iowa to shore up early support for his expected 2008 Presidential bid.
Unfortunately for Kerry he was only able to round up enough senior citizens for a rousing game of Mahjong.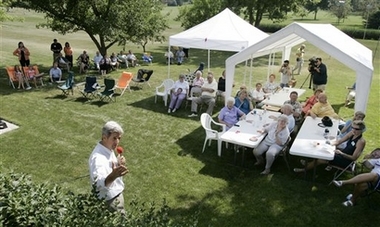 And the reason most of them look a little pissed off is that they didn't get the buffet lunch they were promised.
Posted by: Gary at 01:38 PM | No Comments | Add Comment
Post contains 82 words, total size 1 kb.
21kb generated in CPU 0.0132, elapsed 0.0813 seconds.
111 queries taking 0.0742 seconds, 233 records returned.
Powered by Minx 1.1.6c-pink.