July 13, 2006
Dems Launch Lame Web Video
It'll no doubt spark some outrage among critics because of the
use of the image of flag-draped coffins
. Yes, it's in bad taste. But it's more notable that it's just stupid politics and may even create a backlash. All they're doing is reinforcing voters' image of Democrats as the party of "doom and gloom" on top of "cut and run". Let them run it, I say.
But beyond that small part of the ad, it's a perfect summary for what's wrong with their approach: Republicans are bad, why not vote for us? Rather than present a positive agenda to vote for, they continue to pound on the idea that you should put them in power to make a change for change's sake only. For a system that works as a pretty solid incumbency protection racket, that's utterly moronic.
Captian Ed's analysis is spot on:
"The commercial then takes us on a series of happy pictures interspersed with pictures of Rahm Emmanuel, Nancy Pelosi, and Steny Hoyer -- but says nothing about them. The DCCC just wants you to think that their mere presence makes women and children very, very happy. In fact, the DCCC advertisement has nothing at all about Democratic policy goals or voting records. The only voice the viewer hears is that of Bill Clinton, who actually gets the most face time of any other Democrat in the commercial -- because apparently nothing that Pelosi, Emmanuel, or Hoyer has to say will motivate people to vote Democratic.

As an advertisement, it's pathetic. It says nothing except We Hate Bush Even More Than We Did Two Years Ago. It also communicates that they haven't had an original thought since Bill Clinton's last election in 1996."
If you want to win elections you have give people a reason to vote
for
you, not
against
the other guy.
Wild Thing has an awesome graphic to go along with this story that's too good not to share: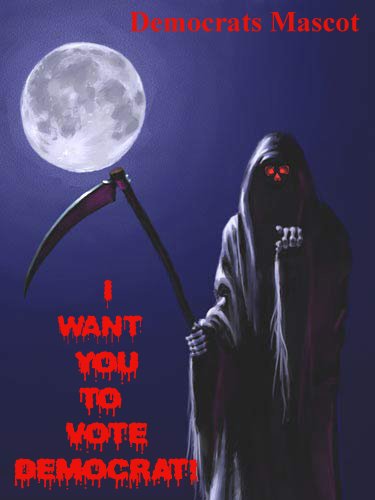 h/t: Vilmar
Posted by: Gary at 09:05 AM | No Comments | Add Comment
Post contains 335 words, total size 2 kb.
Comments are disabled. Post is locked.
15kb generated in CPU 0.0178, elapsed 0.0661 seconds.
112 queries taking 0.0591 seconds, 229 records returned.
Powered by Minx 1.1.6c-pink.