November 15, 2006
Carville: Dump Dean!
More sideshow antics. James Carville, the Democrat strategist behind Bill Clinton's plurality victory in the 1992 Presidential race,
is down on Dr. Howard Dean
as DNC chief.
Carville said the other Democratic campaign committees had borrowed to the hilt.

He said he tried to meet with Dean to argue for additional spending for Democrats in the final days of the campaign, but Dean declined and gave no reason why.

Asked by a reporter whether Dean should be dumped, Carville replied, "In a word, do I think? Yes."

He added, "I think he should be held accountable." He added, "I would describe his leadership as Rumsfeldian in its competence."

Carville likened the Democratic takeover of Congress to the civil war battle at Gettysburg, which the Union army won but failed to pursue the Confederate army when it retreated.

"We should have chased them down," Carville said. There was no immediate response from Dean or the DNC.
Oh, I can't wait to hear Dean's response, assuming he's man enough to respond at all.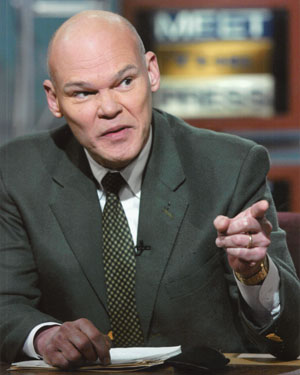 You want a piece of me, you Birkenstock-wearin' Lefty punk?!?
C'mon you nutroots folks! Don't you think it's about time you rode Carville out of town on a rail? I mean, comparing Howard Dean to Union General George G. Meade? That's an insult!
Posted by: Gary at 02:32 PM | No Comments | Add Comment
Post contains 218 words, total size 2 kb.
Comments are disabled. Post is locked.
15kb generated in CPU 0.0276, elapsed 0.107 seconds.
112 queries taking 0.0896 seconds, 229 records returned.
Powered by Minx 1.1.6c-pink.