February 02, 2006
New Blood
Congratulations to Rep. John Boehner on his election as
the new GOP Majority Leader
.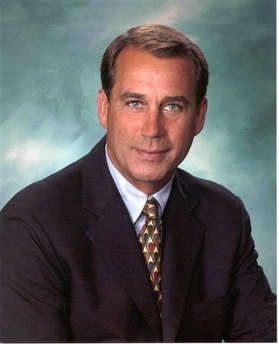 I was hoping for John Shadegg, but in the long run it looks like it was Shadegg's candidacy that at least kept Blunt from getting the vote count he needed to win on the first ballot. The result forced a run-off and Shadegg bowed out, leaving Boehner the winner 122-109. Had Blunt be chosen it would have been a disaster and more of the same. At least this is a step in the right direction.
Boehner is committed to reform, has no taint of Abramoff and - to his credit - has not introduced one single spending earmark during his entire service in the Congress. Hugh Hewitt posts highlights of his Jan. 16th interview with Boehner.
Now if I can just restrain myself from referring to him as "boner"...
Posted by: Gary at 04:40 PM | Comments (1) | Add Comment
Post contains 147 words, total size 1 kb.
1
I heard an interesting story about this guy from a friend in Ohio today. I'll tell you about it later...
Posted by: Georgia Girl at February 02, 2006 11:04 PM (EvFfn)
Comments are disabled. Post is locked.
14kb generated in CPU 0.0538, elapsed 0.1057 seconds.
114 queries taking 0.0699 seconds, 227 records returned.
Powered by Minx 1.1.6c-pink.