January 30, 2007
Happy Birthday To "Big Time"
Who turns 66 today!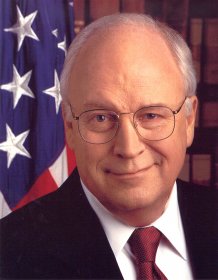 And many more, to the gob-smacking consternation of moonbats everywhere.
And to celebrate, head over to the Ace archives to read the thread "Cool Facts About Dick Cheney" (it's a long one)!
Have a great one, ya big lug!
Posted by: Gary at 12:01 AM | Comments (1) | Add Comment
Post contains 53 words, total size 1 kb.
January 29, 2007
Why So Glum, Chum?
Some perspective from Geraghty the Indispensible on
"the Big Three" GOP Presidential candidates
. Not really as bloody awful as some depressed Conservatives might think.
And for the record, Captain Ed asks "What's the rush?" I second that. I can't see jumping on any particular bandwagon this early in the process.
UPDATE:
Last minute thought. The fear and loathing of a Shrillary Presidency could be the single most significant factor in driving Republican turnout in 2008 for a candidate that the base isn't really that jacked-up about.
Posted by: Gary at 09:25 AM | No Comments | Add Comment
Post contains 94 words, total size 1 kb.
January 04, 2007
17kb generated in CPU 0.0134, elapsed 0.0643 seconds.
114 queries taking 0.0561 seconds, 231 records returned.
Powered by Minx 1.1.6c-pink.