October 31, 2006
With One Week To Go...
Some optimism
from folks who have a lot of specific information that we don't.
Courtesy of Jim Geraghty's "Jedi Council".
I am seeing so many different polls that are contradicting each other in so many crucial races I've stopped looking at them. I think back to 2004 and 2002. My gut says the GOP holds onto both chambers. We'll see.
Posted by: Gary at 02:19 PM | Comments (1) | Add Comment
Post contains 70 words, total size 1 kb.
October 17, 2006
It's Crunch Time
Meaning, for Republicans, it's time to close ranks and rally the troops. No more of this bitching and whining about immigration, pork spending, the Foley mess or any other secondary issue.
The President called a meeting of the lesser Conservative radio talk show hosts ("lesser" because Rush Limbaugh is in a class by himself). Among them were Sean Hannity, Neal Boortz, Laura Ingraham, Michael Gallagher and Michael Medved. Conservatives have legitimate complaints about this Congress as well as the President himself, but their focus needs to be on three issues: Terrorism, Taxes and Judicial Appointments. And these folks need to spend the next 21 days taking to the airwaves, hammering home those very themes. Because when all is said and done, these are the three that matter the most.
Criticism is fine. And it's even necessary much of the time. But an important component of keeping the Congress in GOP hands is unity. Lose that and you'll really see a disaster in the making for this country. And all those other issues will fall by the wayside. I respect the opinions of these pundits, but it's time to see the forest for the trees.
Ms. Ingraham likened herself to a sports fan who nonetheless has occasional criticism of the coach. But, she said pointedly on her show: "I am not an advocate for the G.O.P. I'm an advocate for conservative ideas."
That's fine, Laura. And I'm with you there. But at the end of the day the GOP is your only vehicle for advancing your ideas. Democrats will laugh at you and do the exact opposite. And it's hard to make progress as an advocate for Conservative ideas when you lose an election to Democrats; putting power in the hands of Liberals.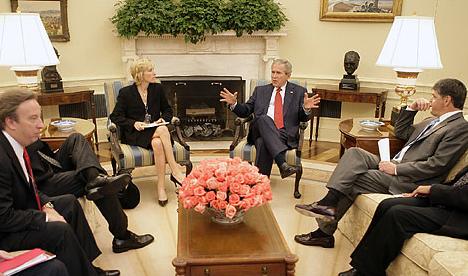 "Alright, gang. This is your coach speaking here. And your coach is telling you to take the ball and run it up the gut!
Losing is for LOSERS!
Posted by: Gary at 10:45 AM | Comments (6) | Add Comment
Post contains 324 words, total size 2 kb.
October 12, 2006
The GOP Ground Game
There's been a lot of discussion lately about how the Republican's Get-Out-The-Vote (GOTV) operation was so effective in 2002 and 2004.
How does 2006 look? Read Jim Geraghty's preview.
UPDATE:
...more from Jim.
Posted by: Gary at 04:48 PM | No Comments | Add Comment
Post contains 41 words, total size 1 kb.
October 02, 2006
The Chips Are On The Table
Speaker Hastert has
publicly declared
that no one in the GOP leadership saw or had knowledge of the Foley IMs. The emails from way back when are one thing. They weren't sexual in nature at all and the parents of the page didn't want them made public. Hastert is either telling the truth or he's one hell of a gambler.
Now if someone on the other side had these IMs and held onto them until five weeks before an election, they had better leave the country or there'll be hell to pay if they're found out.
Lorie Byrd at Wizbang has the money quote here:
If it is learned that a Democrat has been holding those IMs for any period of time for political purposes, the backlash could be as nasty as those disgusting messages.
It would make the Wellstone Memorial backlash seem like a non-event.
UPDATE:
Thanks to Scrapiron for the tip below. The link is here.
Posted by: Gary at 04:40 PM | Comments (2) | Add Comment
Post contains 168 words, total size 1 kb.
23kb generated in CPU 0.0211, elapsed 0.0832 seconds.
115 queries taking 0.0719 seconds, 239 records returned.
Powered by Minx 1.1.6c-pink.