October 17, 2006
It's Crunch Time
Meaning, for Republicans, it's time to close ranks and rally the troops. No more of this bitching and whining about immigration, pork spending, the Foley mess or any other secondary issue.
The President called a meeting of the lesser Conservative radio talk show hosts ("lesser" because Rush Limbaugh is in a class by himself). Among them were Sean Hannity, Neal Boortz, Laura Ingraham, Michael Gallagher and Michael Medved. Conservatives have legitimate complaints about this Congress as well as the President himself, but their focus needs to be on three issues: Terrorism, Taxes and Judicial Appointments. And these folks need to spend the next 21 days taking to the airwaves, hammering home those very themes. Because when all is said and done, these are the three that matter the most.
Criticism is fine. And it's even necessary much of the time. But an important component of keeping the Congress in GOP hands is unity. Lose that and you'll really see a disaster in the making for this country. And all those other issues will fall by the wayside. I respect the opinions of these pundits, but it's time to see the forest for the trees.
Ms. Ingraham likened herself to a sports fan who nonetheless has occasional criticism of the coach. But, she said pointedly on her show: "I am not an advocate for the G.O.P. I'm an advocate for conservative ideas."
That's fine, Laura. And I'm with you there. But at the end of the day the GOP is your only vehicle for advancing your ideas. Democrats will laugh at you and do the exact opposite. And it's hard to make progress as an advocate for Conservative ideas when you lose an election to Democrats; putting power in the hands of Liberals.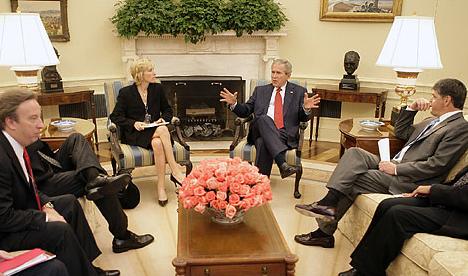 "Alright, gang. This is your coach speaking here. And your coach is telling you to take the ball and run it up the gut!
Posted by: Gary at 10:45 AM | Comments (6) | Add Comment
Post contains 324 words, total size 2 kb.
Posted by: Steve the LLamabutcher at October 17, 2006 11:07 AM (6c8Dx)
Posted by: Gary at October 17, 2006 11:18 AM (PLHs9)
Posted by: Sandy P at October 17, 2006 02:40 PM (P7TI9)
Posted by: Gary at October 17, 2006 02:48 PM (QoxB+)
Posted by: JimK at October 17, 2006 04:09 PM (mcWsB)
Posted by: Little Miss Chatterbox at October 17, 2006 11:58 PM (ZfLHN)
Comments are disabled. Post is locked.
17kb generated in CPU 0.0126, elapsed 0.0609 seconds.
114 queries taking 0.054 seconds, 232 records returned.
Powered by Minx 1.1.6c-pink.