August 28, 2006
Another 'story' from Reuters
GAZA (Reuters) - The missile struck the "P" of the bright red "PRESS" sign on the roof of the armor-plated Reuters car as Gaza cameraman Fadel Shana hurried to film an Israeli raid.

Shana saw only a sheet of flame and the doors of the vehicle fly open.

He regained consciousness in hospital on Sunday, hours after the missile strike, with shrapnel wounds in his right hand and leg. He could not hear in one ear because of the explosion. His eyes were swollen and red.
Let's look at some of the pictures that accompanied this story. Here is an AP photo of Fadel Shana/Shama'a arriving at the hospital.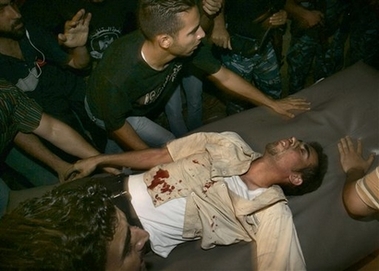 I'm curious about the rather unaffected appearance of this individual who claims to have been a victim of this alleged attack. Not one inch of him or his clothing looks singed from the sheet of flames he described. Looking more closely, his eyes and the area around his eyes do not appear to show any type of burn or laceration that would cause the swelling described in the Reuters dispatch. Another detail that caught my attention: This cameraman, who has been bloodied and exposed to a sheet of flames from a missle attack, has remarkably managed to keep his t-shirt an immaculate shade of pure white.
Another picture of the Fadel Shana/Shama'a in the emergency room: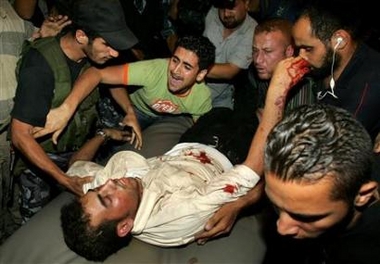 Notice the copious amount of blood on his right hand and the pristine white t-shirt. Now look again at the above picture of Fadel.......the bloody limb seems quite clean. Hmmm..shades of Pallywood?
Here is a photo of the Press vehicle after sustaining two missle strikes according to the caption provided by Reuters: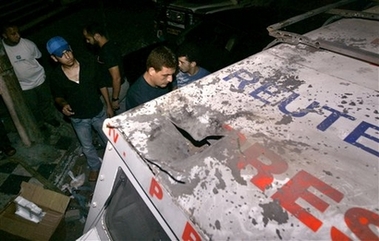 Residents look at a press armored jeep after it was hit, according to witnesses, by an Israeli missile strike in Gaza City early Sunday Aug. 27, 2006. Two missiles fired by Israeli aircraft early Sunday morning hit an armored car belonging to the Reuters news agency, injuring two television cameramen and three bystanders, Palestinian witnesses and hospital officials said. According to witnesses, the crew arrived to the Shajaiyeh neighborhood of Gaza cover a nearby Israeli raid when the missiles hit the car. The Israeli army said it was checking the report.(AP Photo/Hatem Moussa)
Here is another view of the damage to the same press vehicle: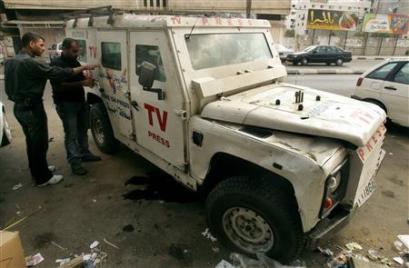 Compare the above pictures to this picture, curtesy of Zombie, depicting the remains a of car after a missle strike in Gaza: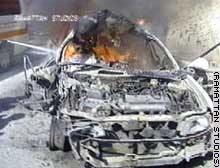 Hmmm..I'm no ordinance expert by any means, but one can't help to notice the startling difference in amount of damage sustained between the two vehicles, both of which were allegedly struck by missles.
Naturally, Reuters is demanding a full investigation of what they label an "outrageous targeting" of their vehicle.
Michael Lawrence, Reuters Managing Editor for Europe, Middle East and Africa, said: "We are deeply concerned at this attack on a clearly marked press vehicle as journalists were doing their job to report the story from Gaza.

"We understand that the army says it had no intention of targeting the media, but this incident is totally unacceptable and we urge a careful examination of how this happened to ensure there is no repeat."

The Foreign Press Association described the attack as "outrageous targeting" of the vehicle and rejected the army's "excuses." It also demanded a full and transparent investigation.
I'm not sure the truth Reuters is looking for will be to their liking regarding this incident.
The following bloggers are weighing in on this latest 'story' from Reuters:
LGF
Snapped Shot
My Pet Jawa
Powerline
Riehl Worldview
Comments? Questions? Leave me a message at MidnightBlue
Posted by: Skye at 01:11 PM | No Comments | Add Comment
Post contains 607 words, total size 5 kb.
Comments are disabled. Post is locked.
18kb generated in CPU 0.0444, elapsed 0.1296 seconds.
112 queries taking 0.107 seconds, 222 records returned.
Powered by Minx 1.1.6c-pink.