October 26, 2005
No Bias There
Google News Hits for "2000 Iraq Death":
5,720
Google New Hits for "Iraq Constitution Ratified": 1,120
'Nuff said.
Posted by: Gary at 10:04 AM | Comments (1) | Add Comment
Post contains 24 words, total size 1 kb.
October 17, 2005
Bush's Brain's Garage
The latest story coming out the A/P is an
in-depth look into Karl Rove's garage
. That's right, crack reporters of the Associated Press managed to persuade Rove's wife to lift the garage door to show that he wasn't home.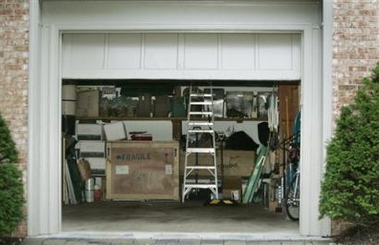 And there was no car as expected. But inside lay a treasure trove of depravity that will surely lead to his resigning as senior advisor to the President. Among the inventory:
Some cardboard file boxes stacked one on top of the other, labeled "Box 6," "Box 4" and what appears to be "Box 7." No sign of boxes 1, 2, 3 and 5. [surely these are the secret reports that prove the White House knew that there were no WMD's in Iraq - boxes 1,2,3 & 5 must have been destroyed!]

_What appear to be paint cans stacked alongside a folded, folding chair. [obviously used to "whitewash" Bush's record in the Texas Air National Guard]

_A rather large wood crate marked "FRAGILE" and painted with arrows indicating which way is up. On top of the crate, two coolers. [must be Dubya's secret store of liquor with cases of Piel's Draft Style in the coolers - we just knew he couldn't stop drinking!]

_A tall aluminum ladder [my guess is that this is Bush's means of sneaking out of the White House to get to the liquor].

_A snow shovel leaned in front of another cardboard box [everyone knows Rove funnels our tax dollars to his buddies in the snow-plow industry. And they take care of him every winter. So what does he need a shovel for? Huh? Mighty suspicious!]

_Wicker baskets inside of wicker baskets on top of a shelf running the length of the rear wall. [What kind of a sick, twisted soul would collect wicker?] Transparent plastic storage bins crammed with indiscernible stuff. Another cardboard box. [indiscernible stuff = has to be the heroin that he is rumoured to be selling to small children in the more impoverished neighborhoods of D.C.]

_In one corner, the rear wheel of a bicycle sticks out, along with what appears to be a helmet. [there can only be one explanation: Rove must have run down a bicyclist late one night, disposed of the body but kept the bike and the helmet because he's so selfish!]

_Another ladder, this one green, leaning sideways. [the back-up plan for Bush's stealth liquor runs, no doubt]
Has he no shame? Thank God we have a free press in this country!
;-)
Posted by: Gary at 04:35 PM | Comments (3) | Add Comment
Post contains 227 words, total size 3 kb.
18kb generated in CPU 0.014, elapsed 0.0652 seconds.
114 queries taking 0.0561 seconds, 227 records returned.
Powered by Minx 1.1.6c-pink.