August 29, 2006
Nasrallah says, "Oops...did we do that?"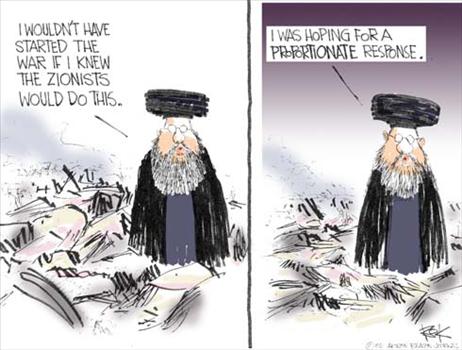 In wake of the cease-fire between Israel and Hezbollah, there have been many who have perceived agreement to the cease-fire as a kind of defeat for Israel. Certainly, my own concern is that a cease-fire only returns us back to the status-quo, giving Hezbollah time to regroup and reinvigorate itself, for the next battle.
One thing that drives me ill, is how Israel was accused of reacting with a "disproportionate response"; how popular "world" opinion that might have been sympathetic at first, turned against them, and pressured Israel into this cease-fire. And when Israel apparently caved to the political will of the world, the world declares it a victory for Hezbollah.
At least that's my perception, if not the actual reality. I admit I haven't followed every single news and blog story on the conflict. (What do y'all make of the Palestinian boy band (s)hit single, "Hawk of Lebanon"? Go to Newsbusters for the MP3 of the smash anti-semitic single, praising Hezbollah, Nasrallah, and Allah).
Not everyone has seen this month-long war as a defeat for Israel. But the last person I expected to hear label the abduction of 2 Israeli soldiers as "a mistake" even as he declares victory, is ol' Nasrallah himself.

BEIRUT, Lebanon (CNN)

-- Had Hezbollah known how Israel was going to respond, the group would not have captured two Israeli soldiers last month in northern Israel, Hezbollah leader Hassan Nasrallah said Sunday.
I've often wondered, even knowing that bin Laden wanted this war with the West, if he has ever thought, "Maybe the U.S. isn't such a paper tiger after all...perhaps bringing down the Towers wasn't such a great idea." After all, he cannot possibly be living up the high life in a cave...nor is he enjoying the 72 virgins promised for martyrdom.
If someone had said July 11 that there was "a one percent possibility" Israel's military response would be as extensive as it turned out to be, "I would say no, I would not have entered this for many reasons -- military, social, political, economic," said Nasrallah, speaking in Arabic.

Not even the families of Lebanese prisoners held by Israel would have wanted to bring on such action, he said.

"If there was a one percent possibility, we would not have done that. We would not have done any capturing."
"One percent" probability?! Did the possibility not even come close to entering their "sheet-for-brains" turban-wearing heads? The blood of innocents is on their hands.
Posted by: Wordsmith at 12:54 AM | No Comments | Add Comment
Post contains 421 words, total size 3 kb.
Comments are disabled. Post is locked.
16kb generated in CPU 0.0206, elapsed 0.073 seconds.
112 queries taking 0.0658 seconds, 228 records returned.
Powered by Minx 1.1.6c-pink.