December 29, 2006
Together, At Last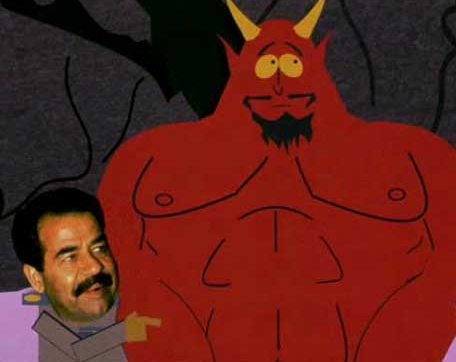 I love when you get all biblical, Satan! You know exactly how to turn my crank.
Posted by: Gary at 10:15 AM | Comments (2) | Add Comment
Post contains 22 words, total size 1 kb.
December 28, 2006
Saddam Hussein May Will Not See The New Year Sunday (Updated!)
So says NBC.
The families of his victims have waited over three years since his capture for justice. I'll still only believe it when I see him actually hanging from a noose.
The sooner, the better.
UPDATE (12/29/06):
Let's see.
Death warrant signed by Iraqi Prime Minister...check.
Saddam transferred to Iraqi custody...check.
Hinges on the gallows trap-door oiled...check...
UPDATE II:
Rumor has it, midnight Iraqi time (4pm EST) 6am Iraqi time (10pm EST).
You can read through this monster's rap sheet while you wait.
UPDATE III:
It's done.
Posted by: Gary at 11:28 PM | No Comments | Add Comment
Post contains 110 words, total size 1 kb.
December 12, 2006
Listening To The Troops
Sean Hannity had an impromptu conversation with our soldiers in Mosel. AllahPundit at HotAir.com
clipped the video
.
Some people believe the media. Some people believe the "Iraq Surrender Group".
I believe these guys. Case closed. God Bless 'em.
Posted by: Gary at 04:55 PM | No Comments | Add Comment
Post contains 46 words, total size 1 kb.
December 06, 2006
Dem Shocker: Pelosi's Hand-Picked Intel Chair Actually Wants To Win In Iraq
OK, so Hastings was not a viable choice. Harmon lost out because the Speaker-to-be has personal issues with her. Now the man who Nancy Pelosi has chosen to Chair the House Intellingence Committee - Rep. Silvestre Reyes - states
we need more troops in Iraq
and we need to defeat the insurgency?
This one will have many Dems scratching their heads and the nutroots screaming at the top of their lungs. Don't get me wrong, I'm pleasantly surprised that he won't be pushing "Operation Cut And Run", but who saw this coming?
Well, Pelosi for one.
But when asked what he told Pelosi about his thinking on Iraq, Reyes replied: "What I said was, we can't afford to leave there. And anybody who says, we are going pull out our troops immediately, is being dishonest … We're all interested in getting out of Iraq. That's a common goal. How we do it, I think, is the tough part. There are those that say, they don't care what Iraq looks like once we leave there. Let's just leave there. And I argue against that. I don't think that's responsible. And I think it plays right into the hands of Syria and Iran."
So how do you anti-war Lefties like your Speaker now? Inquiring minds want to know.
***UPDATE: Curt at Flopping Aces clipped some reax from the peanut gallery at DU. As expected, vile and frothing at the mouth.END UPDATE***
Ed Morrissey points out that this is yet another example of how Pelosi has spent the last month seriously undermining her own credibility:
"Pelosi stripped Harman of the chair that she gave Reyes primarily because of her support of the war in Iraq and a lack of partisan animus on Harman's part. While Reyes promised to vigorously pursue the issues of the warrantless NSA surveillance of international calls and other counterterrorism efforts by the Bush administration, clearly the Democrats expected someone less inclined to keep troops in Iraq, let alone add to the contingent. Even Harman has not gone on record in support of an expansion of troop levels.

So why did she replace Harman? It seems obvious that the decision had much more to do with personal issues than with policy. Democrats may want to rethink her Speakership in light of the series of strange decisions she has made in the wake of their victory. The rule of personal whim has just about destroyed their momentum and may have set up the House caucus for a devastating split at the moment of their greatest unity in a generation."
This is pretty significant. Because the more split this thin majority is over the next two years, the less damage they can do.
Posted by: Gary at 10:00 AM | No Comments | Add Comment
Post contains 471 words, total size 3 kb.
22kb generated in CPU 0.0317, elapsed 0.1177 seconds.
113 queries taking 0.0968 seconds, 235 records returned.
Powered by Minx 1.1.6c-pink.