August 27, 2006
Fox News Journalists Freed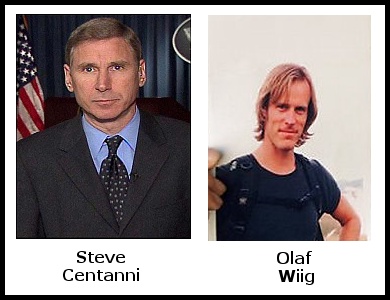 GAZA CITY, Gaza Strip - Militants freed two Fox News journalists on Sunday in theGaza Strip, ending a nearly two week hostage drama in which one of the former captives said they were forced at gunpoint to make statements, including that they had converted to Islam.

Correspondent Steve Centanni, 60, of Washington, D.C., and cameraman Olaf Wiig, 36, of New Zealand, were dropped off at Gaza City's Beach Hotel by Palestinian security officials. A tearful Centanni briefly embraced a Palestinian journalist in the lobby, then rushed upstairs with Wiig behind him.
So, these victims were forced to convert to Islam - a foreshadow for the rest of us?
The Palestinian government said they knew who kidnapped these Fox journalists before stating that they did not know the identity of the kidnappers.
Of course, the obligatory coerced anti-western statements made by Wiig were video taped by the kidnappers. I wonder how closely the statements match DNC talking points?
Read the rest of this bewildering story HERE

UPDATE
This didn't take long - Kidnapped Fox Journalists Convert to Islam on Video brought to you from the vaults of the DU. It's all a conspiracy by the neocons and their Zionist masters - Doh!
Posted by: Skye at 09:30 AM | No Comments | Add Comment
Post contains 209 words, total size 2 kb.
Comments are disabled. Post is locked.
15kb generated in CPU 0.0139, elapsed 0.0624 seconds.
112 queries taking 0.0541 seconds, 228 records returned.
Powered by Minx 1.1.6c-pink.