June 08, 2006
Al-Zarqawi Dead
Not breaking news or anything but congratulations to the hard and frustrating work that our military have put into finding this piece of shit. Here's
the official CentCom press release
.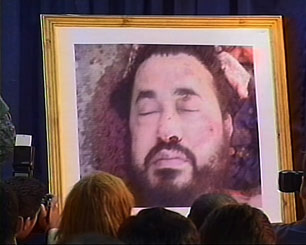 Enjoy your 72 skanks, asshole. In Hell!
- graphic from HotAir.com -
I just want to hear one single Liberal/Democrat blogger admit this is a big psychological blow to the terrorists and a major boost to the free Iraqi people. And maybe...just maybe...offer their congratulations to coalition troops for this successful operation.
Anyone? Didn't think so.
***********************
UPDATE:
Found one! AJ in DC over at AmericaBlog. Good for him.
END UPDATE:
***********************
Expect the official Dem spin to follow one of three courses:
1) It don't mean nuthin'. We're still no more successful in Iraq with Al-Zarqawi dead (denial)
2) Sure, Al-Zarqawi's dead, but how many innocent Iraqis have died in the process. All this means is that there'll be another Al-Zarqawi to take his place (sour grapes)
3) And the most likely, considering what these people are all about: "Retreat and Defeat!" as expressed so eloquently at Democrats.com this morning:
"This is a great opportunity for Democrats. We can now insist that we declare victory in Iraq and bring our troops home."
If we had followed Ol' John "cut and run" Murtha's advise, we would have left without killing Al-Zarqawi, who would be continuing to terrorize the people and the new democratically elected government of Iraq right now. There's work that still needs to be done. These people JUST.DON'T.GET.IT.
Hugh Hewitt has a great round-up.
UPDATE:
NRO's Media Blog has the quotes from the media on this event: The Good, The Bad and The Ugly. Freaking Quislings at the BBC are the worst!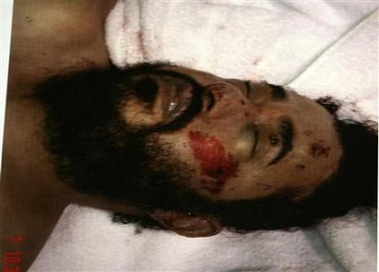 Doesn't Look So Defiant Now, Does He?
UPDATE DEUX:
I swear the first thing I thought of this morning was the lyrics to "America...F*ck Yeah!" from the "Team America: World Police" movie.
I was debating whether or not to post them, but Vinnie beat me to it. Scroll down (NSFW).
Posted by: Gary at 08:56 AM | Comments (2) | Add Comment
Post contains 336 words, total size 3 kb.
1
Howdy, wow isn't it great to meet somebody with a similar experience. I am a former liberal who became a conservative-libertarian. Anyway, I think it is great that this guy is dead. It shows that our troops are over there doing our job.
Posted by: Austin Post at June 08, 2006 09:37 PM (wZLWV)
2
As long as you're an American first and foremost. Welcome to the Blogosphere. :wink:
Posted by: Gary at June 08, 2006 09:44 PM (wMRmR)
Comments are disabled. Post is locked.
17kb generated in CPU 0.0156, elapsed 0.0746 seconds.
114 queries taking 0.0661 seconds, 231 records returned.
Powered by Minx 1.1.6c-pink.