November 27, 2005
What A Day
Well, the day got off to a rousing start when the family and I loaded up the
Tactical Urban Assault Vehicle
minivan and headed across the state to my in-laws' neck of the woods. Our mission: to go out and get our
Festivus Pole
Christmas Tree.
After canvassing the entire tree farm we finally stalked and killed our very own tree, as seen here with Ryan (holding the saw) and Justin (in the background).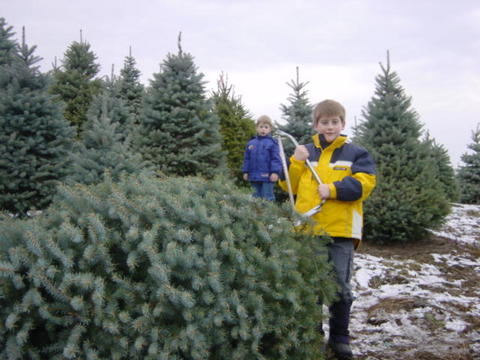 We stopped at my brother-in-law's place for hot chocolate all around. Then we hauled it back to the homestead where I proceeded to wrestle with said tree until I could get it to stand up on its own while still looking somewhat straight from at least one side. The needles of a Blue Spruce are not to be taken lightly and my hands and arms are covered in red dots from where I was stuck by those little sap-laden buggers.
To make the day complete, I got a call from my sister-in-law in Atlanta who informed me that, if I wasn't watching the Giants game, I should turn on the TV as it had just gone into overtime. She warned me that being as the game was in the hands (and feet) of our kicker Jay Feely, the Giants didn't have a prayer because, well, he SUCKS. She should know because Feely used to be on the Falcons. Sure enough, he blew it and the Giants choked it in almost exactly the same fashion as the Cowboys had only three days before.
Now next week's game is basically for the division. With Dallas and New York both tied at 7-4 (and Dallas having won the first meeting), if the Giants lose next week they can pretty much hand the division title to the Cowboys right then and there.
Now I need to go pick dead fallen needles out of my living room carpet. Grrrrrr.
Posted by: Gary at 09:30 PM | Comments (1) | Add Comment
Post contains 324 words, total size 2 kb.
1
Screw the Giants - but Go Christmas! I love folks who cut down their own. Ain't nothing like it. We'll be tramping through the fields of northern Maryland next weekend. Merry Christmas (though it's nearly 70 degrees here and it doesn't feel quite right to say that yet.)
Posted by: Jack at November 28, 2005 10:15 PM (7Ror+)
Comments are disabled. Post is locked.
14kb generated in CPU 0.0099, elapsed 0.053 seconds.
114 queries taking 0.0476 seconds, 219 records returned.
Powered by Minx 1.1.6c-pink.