December 31, 2005
Happy New Year!
We appreciate the brave men and women in uniform who protect our country and advance freedom around the world. We are grateful to their families for their support and sacrifice, and we pray for all those who have lost loved ones in freedom's cause. Our nation will always remember the heroes who have given their lives to protect us all.

As we celebrate the New Year, we give thanks to God for his blessings and ask for his guidance. We look with hope to the year ahead and the many new opportunities the future will bring.
- President George W. Bush, 12/31/05
Posted by: Gary at 06:32 PM | Comments (1) | Add Comment
Post contains 108 words, total size 1 kb.
December 26, 2005
Spam, Spam, Spam, Spam...
For Crissakes, even on Christmas I get comment spam.
Posted by: Gary at 11:34 PM | No Comments | Add Comment
Post contains 18 words, total size 1 kb.
December 25, 2005
Merry Christmas & Happy Hanukkah!
** Sticky post through December 25th - Scroll for updates! **

Posted by: Gary at 11:49 PM | Comments (2) | Add Comment
Post contains 21 words, total size 1 kb.
Christmas Memories
Well, it's been a looooong day. There are two things I am reminded of from all the festivities.
First, the most wonderful sound in this world is the sound of a child who is elated when they open those packages and see magic where I see a piece of mass-produced plastic crap.

Like so: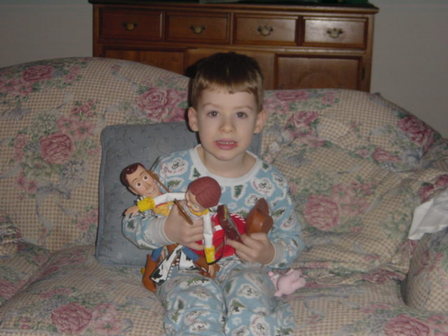 And here: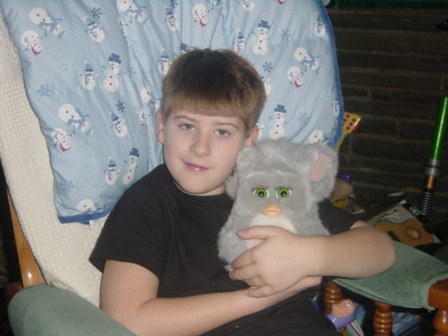 Even the little one: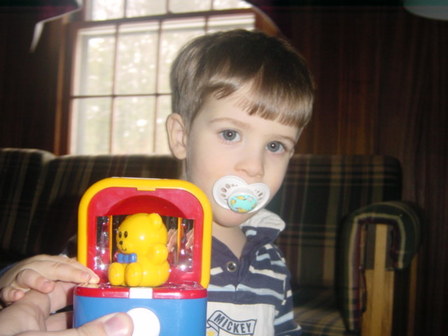 The other thing I've come to realize is that if I ever get my hands on the sumbitch that invented this new trend in packaging where they use wires to harness the toy in the package to the box and twist them into these ghastly knots that wear my fingers down I'm going to hit him upside the head with a Louisville Slugger. Just look at this mess: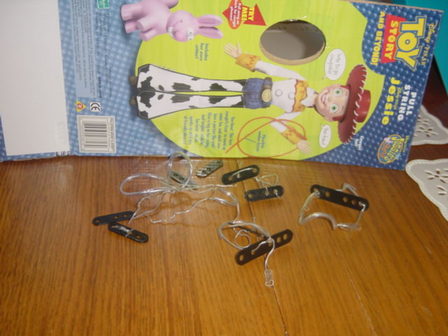 It took me fifteen minutes to pry this Jessie doll free of the package (Justin's obsessed with all things "Toy Story"). And that wasn't the worst part. It took me almost a half an hour to get this dancing Robosapien unpacked: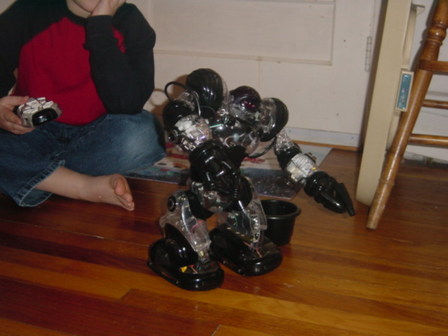 Well, hope everyone had a great day. Need some serious sleep. I'll be going to bed soo...zzzzzzzzzzzzzzzzzzzzzzzzzzzz
Posted by: Gary at 10:12 PM | Comments (3) | Add Comment
Post contains 190 words, total size 2 kb.
December 23, 2005
December 22, 2005
Christmas Wars: Episode III Revenge Of Blue's Clues
The attempts by so many politically-correct crusaders and paranoid atheists in this country to dilute the importance and meaning of Christmas these days is often quite easy to spot.
But Robert the Llama-Butcher has discovered it's infiltration into a children's book. If you thought talking salt 'n pepper shakers were peculiar, wait until you see how the Blue's Clues characters introduce you to the holidays of the season.
For the record, here's my take on the "holiday" season. Christmas and Hanukkah are religious holidays with traditions dating back thousands of years. Kwanzaa is - at best - a cultural celebration. So I feel no more compelled to wish anyone a Happy Kwanzaa than I am to wish someone a Happy St. Patrick's Day. And I wish people a Merry Christmas whether they celebrate it or not. I'm wishing them peace and happiness in the spirit of the day. I'm not insisting that they observe its traditions or significance as I see it.
People who are offended at being wished a "Merry Christmas" need to lighten the hell up and have a heavily rum-laden egg nog.
Posted by: Gary at 03:03 PM | No Comments | Add Comment
Post contains 201 words, total size 1 kb.
24kb generated in CPU 0.017, elapsed 0.0636 seconds.
115 queries taking 0.0531 seconds, 232 records returned.
Powered by Minx 1.1.6c-pink.