September 20, 2006
Lamont's Newest Ad Won't Attract Unaffiliated Voters
The Ned Lamont For Senate campaign has
released a curious ad
in which it attempts to paint Senator Joe Lieberman as a "turncoat".
Lamont's campaign is spending $93,000 this week on a series of statewide television ads that call Lieberman a "turncoat." One ad suggests that Connecticut residents should wear their coats inside-out to protest Lieberman's general election campaign.

Lamont predicted the ads will appeal to his base and undecided voters. "It was a humorous look at a guy that's been a lifelong Democrat who overnight changed his stripes," he said.

Ken Dautrich, public policy professor at the University of Connecticut, said it's important for both candidates to campaign for Democratic votes, but added that unaffiliated voters will likely decide the race. Lamont won 52 percent of the Democratic vote in last month's primary.
So how does an ad criticizing Lieberman for breaking with his party appeal to those critical unaffiliated voters?
Here's a newsflash: it doesn't. Consider why unaffiliated voters are not registered with a party. It's not because they can't decide which one they like. It's because they have no use for either of them. The idea of a Senator who's not in lock-step with his party on every issue actually appeals to them. And while some unaffiliated voters have always been so, many changed to being unaffiliated when they became disgusted with the party to which they originally belonged - feeling that they no longer did. For Democrats, Joe Lieberman doesn't belong. Does that mean that any Democrat who votes for him is a "turncoat" as well? And exactly how many non-Democrats will be up for the idea of making themselves look ridiculous by wearing their coats inside out? Stooooopid!
This strategy tells me one of two things: either the Lamont campaign is so myopic in their approach that they can't move beyond their crusade to punish him for his heresy on Iraq or their internal polling is showing that support for Lamont among registered Democrats is slipping and the percentage of "undecided voters" is growing.
Why spend so much time focusing on "the base" with seven weeks to go? If you don't have the base shored up by this point, then your campaign is in serious jeopardy.
Posted by: Gary at 09:20 AM | Comments (3) | Add Comment
Post contains 383 words, total size 2 kb.
September 08, 2006
The Campaign Begins
Sixty days from now, I and millions of other Americans will go to the polls. We here in CT have a very high-profile Senate race.
I am an ex-Democrat and have been for at least eight years. As such, I (along with about two thirds of registered - and living - voters in CT) did not cast a ballot last month in the Democrat primary. Nor should I have been able to. I strongly disagree with the "open primary" concept.
But the results of that primary election (the rejection of Joe Lieberman by some 10,000 votes) do not reflect the "will of the voters" as Ned Lamont's supporters like to claim. They reflect the vote of registered Democrats (living and dead). Lieberman now runs as an independent. Last time I checked the U.S. Constitution I wasn't able to find any references to political parties.
Joe Lieberman has a right to run as an independent. And he will win or lose based on the will of ALL or CT's registered voters on November 7th. Ned Lamont's supporters should welcome this opportunity if they are so confident in their candidate.
Personally, I believe that Joe will prevail in sixty days. Polls indicate that his approval rating in excess of 60% will translate to a fourth term in the Senate. That being said, you can't take anything for granted in politics. The opposition is determined and relentless. They will do or say anything to win. Their efforts are fueled by organizations like MoveOn.org and the resources that pour into the State on Lamont's behalf come by and large from outside the State.
I could easily just hang back and watch with amusement as the Democrat party engages in intra-party bickering and tears itself to shreds. No matter what, Republicans will NOT pick up this seat. When your opponents fight amongst themselves, it's always best not to interfere.
But I live in CT and this race does mean something to me. I already have to live with the fact that I have one major asshat representing me in the U.S. Senate.
I disagree with Joe Lieberman on most of the votes he casts and almost all of the positions he supports. But I have always voted for Joe regardless of my party affiliation. And I support him this time around for two important reasons: his unyielding integrity and his ardent support for this country's efforts to fight the Islamofascist threat that we now face.
The stakes are just too high.
So I'm signing on as an unofficial - and vocal - supporter of Joe Lieberman for the U.S. Senate. I have absolutely no connection to Connecticut for Lieberman, Friends of Joe Lieberman or any other campaign organization associated with the Senator. But I will be doing whatever I can over the next sixty days to promote his candidacy.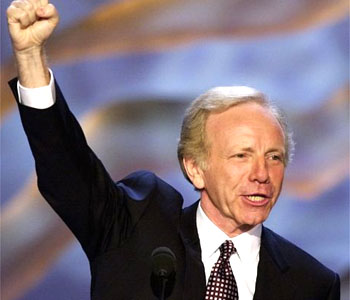 On to victory, baby!
Posted by: Gary at 10:05 AM | Comments (1) | Add Comment
Post contains 484 words, total size 3 kb.
September 07, 2006
Veterans Group Backing Lieberman
Lefties are all up in arms about
Vets For Freedom
. They're deriding them as the 2006 version of the Swift Boat Veterans who exposed John Kerry for the back-stabbing, lying creep that he was back in 2004.
Of course, as in the past, Democrats want to silence them. Why should they support the First Amendment rights of people who risked their lives to defend those very rights for them, anyway? Vets For Freedom's stated mission is "to support policymakers from both sides of the aisle who have stood behind our great generation of American warriors on the battlefield, and who have put long-term national security before short-term partisan political gain."
In other words, other than Joe Lieberman that would leave out just about every nationally-elected Democrat. No wonder the moonbats are pissed off.
The website for Vets For Truth is here. Thanks to our veterans all over the world who keep America free.
Posted by: Gary at 04:05 PM | Comments (1) | Add Comment
Post contains 161 words, total size 1 kb.
23kb generated in CPU 0.0292, elapsed 0.1008 seconds.
115 queries taking 0.0845 seconds, 227 records returned.
Powered by Minx 1.1.6c-pink.