July 27, 2006
No Respect
A
new CBS/NYT Poll
(ahem) finds six in ten respondents believe that foreign leaders do not respect President Bush.
To be honest, you can probably count me among them. And that's a good thing.
Why, you ask? Because it means he's looking out for our interests, not theirs. And that's one of the many reasons I voted for him.
Honestly, what real benefit does the U.S. obtain from having it's President respected by foreign leaders? A boost to our national self-esteem? Whoop-de-do. Here's a news flash: most of the world hates us regardless of who is our President. It's derived from envy. The difference nowadays is that the expression of that hatred is more visible.
The U.S. is damned whatever it does. So allow me to quote Markos Moulitsas Zuniga: "Screw them."
Posted by: Gary at 08:52 AM | Comments (1) | Add Comment
Post contains 136 words, total size 1 kb.
July 06, 2006
Happy 60th Birthday George Dubya!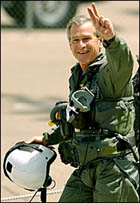 And many, many more. On this day in 1946 in the city of New Haven, CT, the 43rd President was born. I love this pic because it absolutely drives the Left NUTS! That's right, moonbats. A good and decent man. A devoted father. A loving, faithful husband. And a pilot.
And your Commander-In-Chief. Saving your ass, like it or not. Deal with it.
Posted by: Gary at 08:50 AM | Comments (9) | Add Comment
Post contains 73 words, total size 1 kb.
19kb generated in CPU 0.0189, elapsed 0.0694 seconds.
114 queries taking 0.0628 seconds, 236 records returned.
Powered by Minx 1.1.6c-pink.