September 10, 2006
Remembering 9/11

2,996 is a tribute to the victims of 9/11.

On September 11, 2006, 2,996 volunteer bloggers
will join together for a tribute to the victims of 9/11.
Each person will pay tribute to a single victim.

We will honor them by remembering their lives,
and not by remembering their murderers.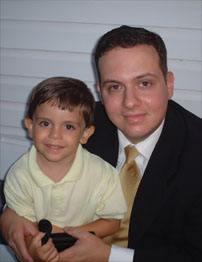 Skye remembers Marcello Matricciano, 31, WTC
Marcello was a loving husband, father and brother whose life was cut short on a Tuesday morning in 2001. I've never had the pleasure of knowing Marcello in life - yet during my research on his life, I would imagine it would have been an honor to call Marcello a friend.

What I can share are the words of those who knew and loved him speak to his character:
Marcello was a loving husband, father and son. He was Wall Street's biggest fan. I met Marcello when I was 17 years old and he was 19 in the Bear Stearns' mailroom department where we were both starting our careers. While others read magazines and junk that circulated around the mailroom, Marcello read the Wall Street Journal, NY Times and all of the latest financial information. He was fascinated by Wall Street and couldn't understand why others didn't share in his passion. I knew then that he would be successful on Wall Street. He was always the center of attention at family gatherings, sharing his knowledge of the markets. He became his family's own financial planner and he loved every minute of it. He will forever be remembered to all who knew him as ambitious and someone who stopped at nothing until he achieved his goal.

He enjoyed reading, music, soccer, cycling and, boy, did he love his Italian Food! Nothing but the best for him. He loved to read up on all of the best restaurants and best wines. He always made it his business to try the latest and the greatest places just so that he could say he tried it. He looked forward to his weekend rides in Central Park with his buddy Ed where he would work off all of the food he had eaten just days before.

Then there is Nicholas. Oh, how he loved his son! He lived his life for his son. He loved the best of everything and never gave his Nicholas or I any less. Nothing could make him happier than Nicholas could. I could not have asked for a better father for my son. Although Nicholas had you for only 4 years of his life, he will remember you for eternity. You made such an impact in his life. He misses you dearly!

My love, you were a devoted father and husband. You always managed to make me laugh with your silly and sometimes obnoxious comments. The way you dedicated your life to your family will never be forgotten. We were all very proud of you and I, too, hope to make you proud of me in the way I will continue to raise our son. You will forever be missed by your family and all who knew you. Life as I knew it will never be the same without you. You will forever be in our hearts. Goodbye My Love, until our paths cross again! Nicholas and I will LOVE YOU FOREVER!
Jason Kendall recalled the humor of Marcello

Marcello Matricciano was our company clown and stress-reliever. He was able to walk into a room, insult us all completely and make us laugh. His insults were right out of a South Park cartoon, and his friendship was as dear as his mouth was dirty. His bouyant character helped us all calm down in the bad economic days. And in the good days, he was a beacon of laughter and friendship. His wife and son, Nick, will sorely miss him.

His image can be found on a Memorial Quilt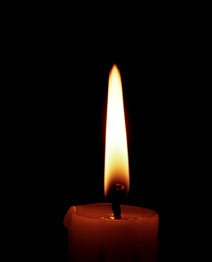 Out of the Night that covers me
Black as the Pit from pole to pole,
I thank whatever gods may be
For my unconquerable soul.

In the fell clutch of circumstance,
I have not winced nor cried aloud.
Under the bludgeonings of chance,
My head is bloody, but unbowed.

Beyond this place of Wrath and Tears,
Looms but the Horror of the shade,
But yet the menace of the years,
Finds, and shall find me, unafraid.

It matters not how strait the gate
How charged with punishments the scroll.
I am the master of my fate.
I am the captain of my soul.

Invictus
by William Ernest Henley
Rest in Peace, Marcello.
May perpetual light shine upon you.
Cantor Fitzgerald Family - 2996 Tribute Cantor Fitzgerald Directory
Posted by: Skye at 05:01 PM | Comments (19) | Add Comment
Post contains 779 words, total size 5 kb.
August 12, 2006
A Walk To Remember
America Supports You Freedom Walk - 2006


On the five year anniversary of the tragic events at the Pentagon, the twin towers in New York City, and Shanksville, Pennsylvania, the America Supports You Freedom Walk begins a new national tradition to reflect on the lives lost on September 11, renew our commitment to freedom and the values of our country and honor our veterans, past and present.
Freedom Walks are being held in cities across the United States, if you don't see your city listed - go ahead and host one in your city!
I've registered for the DC Freedom Walk. The Walk begins at the Washington Monument, proceeds over the Arlington Memorial Bridge and continues toward the Pentagon. The Walk concludes adjacent to the crash site in the Pentagon South Parking Lot. A concert at the Pentagon parking lot will follow after the Walk concludes.
Interested?
Come walk with me on September 10, 2006.
Posted by: Skye at 11:18 PM | No Comments | Add Comment
Post contains 163 words, total size 1 kb.
May 02, 2006
Rollover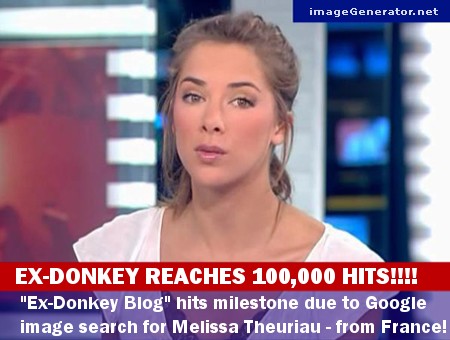 A couple of minutes ago, this blog rolled over into the six digit column in hits. And talk about irony, hit number 100,000 originated from France. I don't point this out as some kind of victory dance. I understand all too well what the driver is behind this number. A huge portion of those hits have come from weirdos in Europe and the Middle East doing Google image searches for Diane Lane, Melissa Theuriau and Elisabeth Shue. And, hey, I'm not above engaging in the occasional google chumming.
The fact is that I don't really have any particular traffic or exposure expectations, although I'm continually surprised at how fast those numbers have risen since February 2005. But what's always been the most important measurement to me is whether or not I enjoy doing this. I don't expect to be the driving force behind exposing some major screw up by the MSM. I don't expect to offer some "must read" post that everyone forwards to their friends and family around the country. And, frankly, I don't really care all that much whether or not I change any minds of those who disagree with me.
This site is, has always been, and will always be just a repository for my random thoughts and musings about things political, cultural and (at times) personal. Some of you may have noticed that the posting frequency has dropped off a bit lately. There are many reasons for this but the overriding one is that lately I've come down with a mild case of "idontgiveacrap-itis".
Now usually at this point, a long-time blogger will say "so I'm going to take a break" or "this blog is on hiatus". It happens all too frequently. Some bloggers even hit the proverbial wall and drop out altogether. That's not where I'm going with this, however. I just wanted to point out that, as with any form of writing, the juice ebbs and flows. Right now I'm kind of ebbing but at any time I could start flowing again.
I'd like to take the opportunity to thank all of those folks who for some strange reason keep coming back to see what new nonsense I've posted. More importantly, I want to offer huge cyber hugs 'n kisses to those other bloggers who've steered traffic my way via links and trackbacks. It reminds me to try and be on my best behavior. :wink:
Posted by: Gary at 09:30 AM | Comments (5) | Add Comment
Post contains 403 words, total size 2 kb.
February 24, 2006
Hoop Dreams Come True For Autistic Teen
High School Senior Jason McElwain of Rochester, NY plays in the final four minutes of his team's last home game.
What he does
will make you cheer.
Jason has autism.
The story has special meaning for me because autism is a part of my family's life. Be sure to watch the video that goes with the story. Special thanks to BullDogPundit for linking this.
Posted by: Gary at 02:01 PM | Comments (2) | Add Comment
Post contains 78 words, total size 1 kb.
February 02, 2006
Touching
I can't believe I missed this. At long last, Margi Lowry has given birth to her baby boy! Congrats, Margi!!
She shares the story here. Get Kleenex!
Posted by: Gary at 11:12 AM | No Comments | Add Comment
Post contains 29 words, total size 1 kb.
February 01, 2006
Hey, It's My Blogoversary!
Yeah, a
real
one. Not measured in months. One year ago today I set up the old site on Blogsnot. Man, has it really been a whole year?
I think I'll take the day off to celebrate.
Posted by: Gary at 07:01 AM | Comments (8) | Add Comment
Post contains 46 words, total size 1 kb.
December 08, 2005
25 Years Ago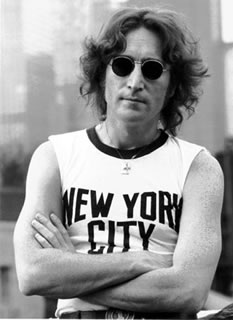 I was half asleep in my bed with the radio on. It must have been around 11:30pm or so. The announcement came that John Lennon had been shot outside his home in NYC. The news didn't shatter me as it had so many of his fans because I hadn't yet become all that familiar with him, outside of the fact that he used to be one of the Beatles. It was actually this event that drove me to buy every single Beatles album and gain a new-found appreciation of their music. more...
Posted by: Gary at 11:15 AM | No Comments | Add Comment
Post contains 382 words, total size 2 kb.
September 06, 2005
Happy Blogoversary to Jokers On The Right!
Ryan S. of Jokers to the Right has hit one year! Also, he has
updated his URL
. No more Blogspot for him. Congratulations, Ryan!
Does my heart good to see a guy his age with his head already screwed on straight.
Posted by: Gary at 10:09 AM | Comments (1) | Add Comment
Post contains 55 words, total size 1 kb.
45kb generated in CPU 0.0468, elapsed 0.1099 seconds.
116 queries taking 0.0902 seconds, 264 records returned.
Powered by Minx 1.1.6c-pink.