December 08, 2005
25 Years Ago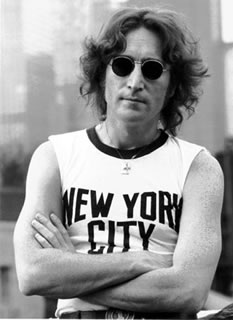 I was half asleep in my bed with the radio on. It must have been around 11:30pm or so. The announcement came that John Lennon had been shot outside his home in NYC. The news didn't shatter me as it had so many of his fans because I hadn't yet become all that familiar with him, outside of the fact that he used to be one of the Beatles. It was actually this event that drove me to buy every single Beatles album and gain a new-found appreciation of their music. When I was fifteen, my parents agreed to let me get guitar lessons. My instructor, who was heavily influenced by the Blues style of playing, asked me who was my favorite guitarist. I though for a moment and told him "John Lennon". He looked at me with a bit of bewilderment, "John Lennon?" Then he considered this for a moment and said yeah, he could see that. I think he was hoping I would say "Robert Johnson" or something.
Throughout my teens, I had a huge appreciation for Lennon's work as a Beatle, but his later solo output didn't do all that much for me, especially the stuff from the early-Seventies. I had become a much bigger Paul McCartney fan. But Lennon was always one of my all-time favorites.
John Lennon was an eccentric. He was also a moonbat before anyone knew what a moonbat was. Had he lived, it's hard to say what he'd be like. On one hand, I don't have a hard time imagining him acting as a human shield for Saddam Hussein. But on the other hand, he might very well have become disillusioned by his friends on the Left. He was funny that way. Very unpredictable.
In any case, his influence on modern music can't by quantified.
But Lennon had a date with destiny. Unfortunately for him, some fat little malcontent correctly came to the conclusion that his own existence mattered to no one in particular. And he decided to change that by emptying a pistol into Lennon's back and shoulder. What a waste.
But if Lennon were to have survived the attack, I have no doubt he would have had something clever and witty to say about it. RIP.
Posted by: Gary at 11:15 AM | No Comments | Add Comment
Post contains 382 words, total size 2 kb.
Comments are disabled. Post is locked.
14kb generated in CPU 0.0182, elapsed 0.0929 seconds.
112 queries taking 0.0795 seconds, 217 records returned.
Powered by Minx 1.1.6c-pink.