February 01, 2007
Heading Out To The Pasture...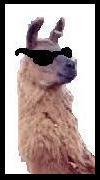 And so it ends. Two years to the day (and to the minute) from
when it began
.
For those who didn't get the memo about the conclusion of the Ex-Donkey Blog, I refer you here.
In the first post I ever wrote, I said, "I plan on keeping it simple. Only two topics: Politics and everything else that I like." The politics angle was interesting enough. I had a lot to say. And I think I've pretty much said most of what I care to on that particular topic. Two years ago, in the wake of the 2004 Presidential election, politics in this country was in an ugly state. I had hoped we had hit the high-water mark of the ugliness. But to my dismay it's gotten even more distasteful and toxic. And it couldn't be happening at a worse time in our nation's history. I've gotten weary of it. At this point I'd much rather focus on the "everything else I like" sort of stuff - while still having some occasional fun at the expense of the moonbat brigade.
So the Ex-Donkey is off to join the Llamas, where I can have that fun on a more flexible schedule. Because of other personal commitments I probably won't be posting as often as I did here, but there are plenty of other excellent "tasty bits" to mix it up with over there. Anyone still interested in reading what I have to contribute can follow me to the "pasture" (a/k/a Orgle Manor). Even if you're not, I still encourage you to visit.
As I have already mentioned, the comment function will be shut down soon (if it hasn't been already) as a firewall against comment spam. A warm thanks to all who frequented the place and helped keep it humming. I plan on keeping the site up for as long as the administrator at MuNu will let me.
One other housekeeping note: the current poll about the lefty blogs will stay active for the foreseeable future so feel free to vote as often as it will allow.
Adieu :-)
Posted by: Gary at 10:15 PM | Comments (6) | Add Comment
Post contains 358 words, total size 2 kb.
18kb generated in CPU 0.0149, elapsed 0.0671 seconds.
113 queries taking 0.0589 seconds, 226 records returned.
Powered by Minx 1.1.6c-pink.