February 09, 2006
Is Germany Back On Board?
The United States doesn't ask a whole heck of a lot from its allies. Just a little support now and again. And if that's too hard, please go about your business and stop busting our balls. Not since Chancellor Helmut Kohl has a reunited Germany (you're welcome) been a real partner to America. With the Soviet threat gone and a perception that they didn't need us anymore, the government under Gerhard Schroder embraced socialism and assumed an anti-American stance (and became a charter member of the Axis of Weasels).
So it was a nice surprise that the people of Germany recently elected Angela Merkel as their new Chancellor. Merkel served in Kohl's fourth and fifth cabinets and was the opposition leader during Schroder's term. Considering the narrow election results and the make-up of the current coalition government, I haven't expected too much in the way of change. But as Tod Lindberg writes in the Washington Times, Merkel made a distinct impression at a recent gathering of NATO defense ministers in Munich.
Although she has a lot of work to do on domestic policy in order to revive the underperforming German economy, and although that might well take a toll on her now sky-high approval ratings, on foreign affairs she has already shown herself to be a voice of moral seriousness and balanced judgment. Perhaps that had something to do with coming of age in the police state of Erich Honecker's East Germany.

Consider, for example, Mrs. Merkel's pointed response to recent statements of Iranian President Mahmoud Ahmadinejad (my notes and translation from the German text): "I must add that the absolutely unacceptable provocations of the Iranian president demand a reply from us. I say this especially as the chancellor of Germany: A president who has questioned the right of Israel to exist and disavowed the existence of the Holocaust cannot expect Germany to show the least tolerance in these questions. We have learned from our history." She said unequivocally, "we must prevent the development of Iranian nuclear weapons." When the Iranian deputy foreign minister took the floor during the question period to defend Iran's nuclear programs, Mrs. Merkel pointedly noted in reply that he had made no response to her on the Holocaust or Israel.

A year ago at the Munich conference, German Chancellor Gerhard Schroeder (in a speech he didn't bother to show up to deliver but rather had read out by his defense minister) stated that NATO "is no longer the primary venue where trans-Atlantic partners discuss and coordinate strategies." Although U.S. diplomats subsequently decided to read a sense of regret into Mr. Schroeder's comments, there was none. They came on the heels of his remark about the "different light" in which the United States and Germany view their role in the world, with Mr. Schroeder's Germany in favor of "international stability and order."

Mrs. Merkel, by pointed contrast, noted specifically: "We must make a decision: Will we give NATO the primary role in trans-Atlantic cooperation, the first attempt we make to undertake necessary political consultations and decide on necessary measures... or do we want to give NATO a secondary role?" She endorsed the primary role in no uncertain terms and spoke of the need for a "permanent shared analysis of threats." U.S. diplomats think her strong position will empower other, smaller alliance members to speak up with similar views they were reluctant to voice while Mr. Schroeder and his friends seemed to be trying to get up the nerve to turn their backs once and for all on American participation in European security.
If you're going to have a successful partnership, it's critical that when you reach out they reach back. And it's refreshing when they finally do. Party on, Angie!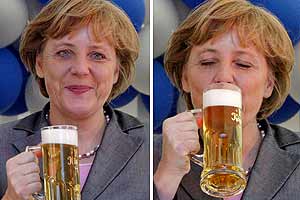 Posted by: Gary at 10:00 AM | Comments (1) | Add Comment
Post contains 632 words, total size 4 kb.
17kb generated in CPU 0.0158, elapsed 0.063 seconds.
113 queries taking 0.0555 seconds, 225 records returned.
Powered by Minx 1.1.6c-pink.