May 17, 2006
If You Build It, They Won't Come
At least that's the theory.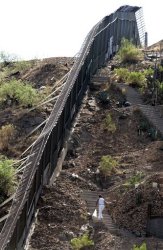 The Senate just
voted overwhelmingly
to build a 370-mile triple-layered fence along the U.S.-Mexico border. In addition, there will be 500 miles of vehicle barriers.
Construction of the barrier would send "a signal that open-border days are over. ... Good fences make good neighbors, fences don't make bad neighbors," said Sen. Jeff Sessions, R-Ala. He said border areas where barriers already exist have experienced economic improvement and reduced crime.

"What we have here has become a symbol for the right wing in American politics," countered Sen. Dick Durbin, D-Ill. He said if the proposal passed, "our relationship with Mexico would come down to a barrier between our two countries."
Um, that's right Dick. Right now, our relationship is based on Mexico encouraging thousands of its citizens to cross the border illegally every day and the U.S. looking the other way. Finally saying "no" to Mexico is not "right-wing", it's just right (and smart).
Considering the tone of the House version of the immigration bill, I'd say this provision will be a keeper as it goes through committee. Any chance we can get this sucker electrified?
Posted by: Gary at 03:46 PM | Comments (2) | Add Comment
Post contains 202 words, total size 1 kb.
1
One complaint I heard is that it would wreck the view. Good Grief.
Posted by: mdmhvonpa at May 18, 2006 09:56 AM (axVEU)
2
lol, that's the exact same title i thought of when reading the article.
Posted by: Matthew at May 18, 2006 11:49 AM (CB3Ng)
Comments are disabled. Post is locked.
14kb generated in CPU 0.0835, elapsed 0.1409 seconds.
114 queries taking 0.113 seconds, 217 records returned.
Powered by Minx 1.1.6c-pink.