June 27, 2006
King Of Television "Guilty Pleasures" Dies At 83
I missed this yesterday but
Aaron Spelling has passed on
.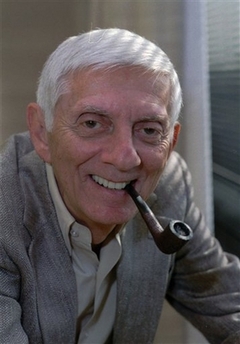 Aaron Spelling
1923 - 2006
Spelling was a pioneer in "bad" TV shows that so many of us grew up with and loved so much. Who can forget Saturday nights watching "The Love Boat" and "Fantasy Island" (with the same guest stars rotating through each show)?
Spelling's shows created pop culture icons and launched careers from "Starsky and Hutch" to "Charlie's Angels" to "Dynasty". What we most remember about the '70's and '80's we owe to him. Even made for TV movies like "The Boy In The Plastic Bubble" with John Travolta were his babies. If you recognize the names Dan Tanna, T.J. Hooker or Jonathan and Jennifer Hart, it was Aaron Spelling who's responsible.
And of course, who can forget "Beverly Hills, 90120" and "Melrose Place"? C'mon, admit it. You watched them and you couldn't get enough of them!
Posted by: Gary at 10:00 AM | Comments (3) | Add Comment
Post contains 169 words, total size 1 kb.
1
I was always very partial to re-runs of Starsky & Hutch; very 70's! By the way, my name is Michael, and I am the editor of Western World Politics, an un-apologetically pro-American and pro-freedom blog. We have recently moved to the new address of; http://thewwp.blogspot.com Please feel free to check us out sometime, as we are keen to build up links and working relationships with other like minded bloggers. If you wish to contact me, please feel free to do so at the e-mail address on the blog. Regards Michael, Editor
Western World Politics
Posted by: Michael at June 27, 2006 10:03 AM (dtjxn)
2
I confess to a 90210 addiction....hello Dylan McKay! I hate Brenda!
Posted by: GroovyVic at June 27, 2006 01:43 PM (K7EPG)
3
Didn't he also invent Gilligan's Island, I Dream of Jeanie and The Brady Bunch? What would my childhood have been like without him?!!!
Posted by: Tuning Spork at June 29, 2006 09:20 PM (AkRkD)
Comments are disabled. Post is locked.
15kb generated in CPU 0.0486, elapsed 0.1057 seconds.
114 queries taking 0.0978 seconds, 224 records returned.
Powered by Minx 1.1.6c-pink.