December 04, 2006
"Toot, Toot, Chugga, Chugga...WTF?"
Greg Page is officially leaving The Wiggles.
Permanently.
The original word was that he would be taking an extended leave of absence from touring, due to illness. But now it looks like the torch (and the Yellow Jersey) is being passed on to a replacement.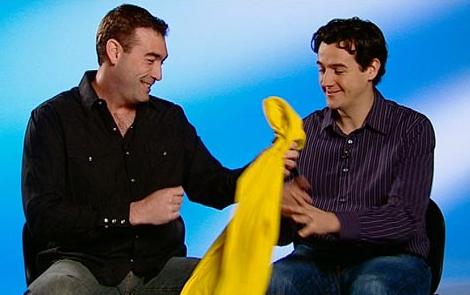 Here you go. Now you can sing those songs, over and over...
OK, full disclosure here. I have a six-year old who is an absolute Wiggles freak. So a major change like this is going to have a profound ripple effect in my home life.
I hope that Greg's health issues are not serious. Clearly the grueling schedule has taken its toll. And I wish Sam Moran the best of luck. He's got big shoes (and a big shirt) to fill.
The biggest winners in this situation: eBay sellers. Take my word on that one.

Posted by: Gary at 09:00 AM | Comments (3) | Add Comment
Post contains 148 words, total size 1 kb.
1
That is the very first time I have ever seen Greg not wearing the yellow shirt. Weird. I gather - although we were a bit past it when it happened - that "Blue's Clues" survived the departure of Steve and the substitution of Joe. But I can't help thinking the dynamic is going to be a bit different with the Wiggles.
Posted by: Robert the Llama Butcher at December 04, 2006 01:38 PM (0JsTF)
2
Robbo, unfortunately my household never got used to "not Steve" for that show. Sam will have to find more than just his own voice in this group. He needs to find his own schtick. Murray = guitar, Jeff = narcolepsy, Anthony = voracious appetite, Sam = "not Greg"? I dunno. We'll have to wait and see.
Posted by: Gary at December 04, 2006 04:49 PM (QoxB+)
3
Steve's legacy at Orgle Manor is that I still sometimes sing his version of "I've Got A Silly Hat," much to the annoyance of the gels:
Porkpie, pillbox, panama, tiara - turban, fez, sombrero!
Posted by: Robbo the LB at December 04, 2006 05:41 PM (0JsTF)
Comments are disabled. Post is locked.
15kb generated in CPU 0.0192, elapsed 0.0958 seconds.
114 queries taking 0.0854 seconds, 224 records returned.
Powered by Minx 1.1.6c-pink.