November 03, 2005
Time To Drill, Baby!
See this picture?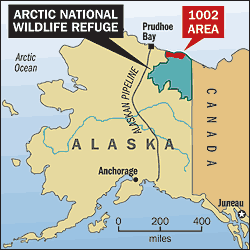 Now look closely. See that little bitty red part inside the little blue part at the top of Alaska? That's where we will soon be drilling! Despite all the whining and moaning from the environmental whackos, it looks like it takes a slap in the face (and the wallet) to make people realize that we need to start drilling from our own sources.
I wrote a heads-up that this was coming down the pike back in August. Now it looks like its finally going to happen in the next couple of weeks. What a perfect time, when the Democrats are already flailing. Now the GOP can finally put an end to their perennial ANWR filibuster. You want to play around with Senate procedures, guys? We can play that game too.
UPDATE: The Senate just passed the motion! Now the House and Senate versions must be reconciled.
Posted by: Gary at 03:05 PM | No Comments | Add Comment
Post contains 157 words, total size 1 kb.
Comments are disabled. Post is locked.
11kb generated in CPU 0.0144, elapsed 0.0758 seconds.
112 queries taking 0.0701 seconds, 205 records returned.
Powered by Minx 1.1.6c-pink.