November 10, 2005
House "Moderate" Republicans Fudge Their Shorts Over ANWR...Again
Well, once again
Northeastern Republicans stabbed their party in the back
. The so-called "moderate" members of the GOP, fearing attack ads from the Sierra Club and other Environmentalist whacko interest groups next year, pressured the House Rules Committee to pull the ANWR provision from the budget bill. And this, after the Senate GOP finally strapped one on and passed the meaure in the upper chamber.
Nice. Well, it's back to the drawing board. Too bad these cretins (and I strongly suspect that my Congresswoman is part of this) are too focused on their reelection next year to face up the problems of foreign oil dependency to actually do something that would help alleviate them in the years to come. Now with this winter expected to be a bitch and home heating fuel prices eating such a huge chunk out of family budgets, the twenty-five Republicans who threatened to vote against the budget if the ANWR provision were not removed will just look to their constituents and shrug their shoulders.
BullDogPundit hits the nail on the head:
Think about it. What good is a GOP majority if they can't pass tax cuts, can't slightly reduce the rate of growth in spending, and panic because enviro-kooks object to drilling in a barren, snow-covered wasteland?
Indeed.
Posted by: Gary at 07:37 AM | No Comments | Add Comment
Post contains 227 words, total size 2 kb.
November 03, 2005
Time To Drill, Baby!
See this picture?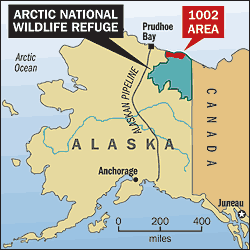 Now look closely. See that little bitty red part inside the little blue part at the top of Alaska? That's where we will soon be drilling! Despite all the whining and moaning from the environmental whackos, it looks like it takes a slap in the face (and the wallet) to make people realize that we need to start drilling from our own sources.
I wrote a heads-up that this was coming down the pike back in August. Now it looks like its finally going to happen in the next couple of weeks. What a perfect time, when the Democrats are already flailing. Now the GOP can finally put an end to their perennial ANWR filibuster. You want to play around with Senate procedures, guys? We can play that game too.
UPDATE: The Senate just passed the motion! Now the House and Senate versions must be reconciled.
Posted by: Gary at 03:05 PM | No Comments | Add Comment
Post contains 157 words, total size 1 kb.
14kb generated in CPU 0.0116, elapsed 0.0563 seconds.
111 queries taking 0.0499 seconds, 205 records returned.
Powered by Minx 1.1.6c-pink.