October 03, 2006
Dem Leadership Gives "Wink" And A "Nudge" To Lieberman
According to a story in The Hill, Joe Lieberman says he's received
assurances from the Senate Democrat Leadership
that - should he win - he will keep his seniority and committee assignments.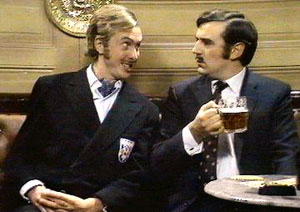 "So, how's it going on the campaign trail, Liebs, old pal? Looking forward to keeping that seniority are we? Wink, wink. Nudge, nudge. Say no more?"
The nutroots, of course, sees this as a betrayal. And I don't blame them.
Tom Matzzie, the Washington director of MoveOn.org, a liberal advocacy group that supports Lamont, said Lieberman may be spreading false information to make himself a more attractive candidate.

"This is a Lieberman campaign tactic," he said. "Democratic leaders are supporting Ned Lamont."

Bill Grad, who sits on the Democratic Town Council of Greenwich, Conn., LamontÂ's home town, said Lieberman has very actively distanced himself from the Democratic Party, and that it was wrong of leaders to promise anything.

"Why should Reid tell the guy in advance that he'll have his seniority. If it comes to that, that's fine. But it's disappointing, it's greatly disappointing that he would be given assurances."
Seems to me that Reid and co. not only see the writing on the wall in terms of Lamont's viability but they're also making preparations should the Senate make-up end up in a tie - 49-49-2.
It'll be interesting to read the Lefty blogs in the coming days.
Posted by: Gary at 09:20 AM | No Comments | Add Comment
Post contains 246 words, total size 2 kb.
Comments are disabled. Post is locked.
14kb generated in CPU 0.0194, elapsed 0.0841 seconds.
112 queries taking 0.0742 seconds, 218 records returned.
Powered by Minx 1.1.6c-pink.