December 21, 2005
The Worst Economy Since Herbert Hoover
Yeah, right. Just take a look at quarterly GDP growth since the President handed out his "tax-cuts for the rich":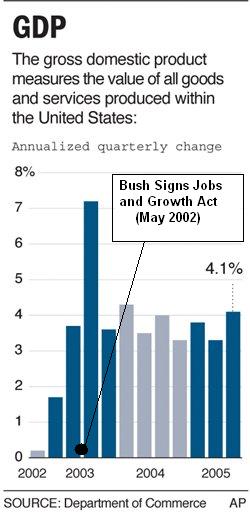 Not to mention 5% unemployment and a deficit shrinking every day from higher Federal tax revenues.
Now imagine if we made those tax cuts permanent?
Posted by: Gary at 02:28 PM | No Comments | Add Comment
Post contains 57 words, total size 1 kb.
December 09, 2005
"Voo-Doo" Economics Increases Federal Receipts
For the
third
time since the early 1960's, drastic cuts in the marginal tax rates have produced more - NOT LESS - tax revenues, as demonstrated by the following chart just
released by the Treasury Department
: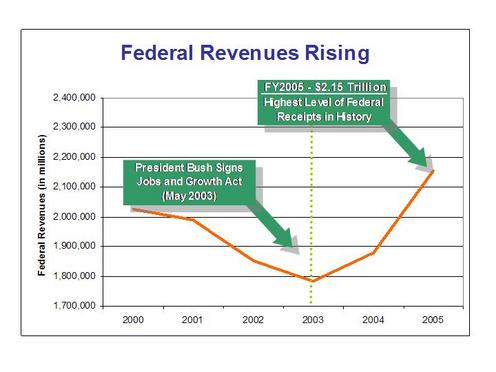 Lower Tax Rates = Higher Tax Receipts = Lower Budget Deficits. Kennedy understood it. Reagan understood it. Bush understands it.
You see, this is how economics works in the real world as opposed to Paul Krugman's fantasy world.
h/t: Ace of Spades HQ
Posted by: Gary at 10:30 AM | Comments (1) | Add Comment
Post contains 89 words, total size 1 kb.
14kb generated in CPU 0.014, elapsed 0.0642 seconds.
113 queries taking 0.0568 seconds, 216 records returned.
Powered by Minx 1.1.6c-pink.