November 16, 2005
Heh. Now It's Big-Time's Turn
Cheney is getting into the act now:
"The President and I cannot prevent certain politicians from losing their memory, or their backbone – but we're not going to sit by and let them rewrite history."
Drudge has posted
a lot of the speech's text
.
Posted by: Gary at 07:42 PM | No Comments | Add Comment
Post contains 52 words, total size 1 kb.
November 15, 2005
Just Google It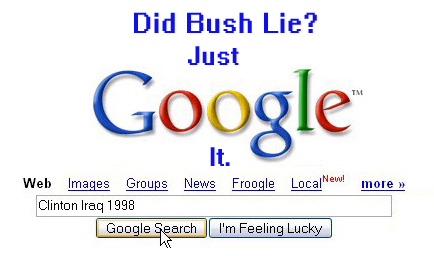 Click on the Google graphic and see for yourself. Available at Michelle Malkin's site.
Posted by: Gary at 09:33 PM | No Comments | Add Comment
Post contains 20 words, total size 1 kb.
September 28, 2005
The International Star Registry Scam
People, PLEASE use the brains that God gave you and do NOT fall for this garbage. You know what I'm talking about. That radio commercial featuring a guy named Rocky Mosele who tries to persuade you to name a star after a friend or loved one where it will be recorded in an "official" star registry - all for only $50.
First of all, any claim made by a guy named "Rocky" immediately makes it suspect. But here's the deal. It may sound like an interesting idea for there to be a star up in the sky named after your Aunt Connie, but this outfit has made millions off gullible people for the last twenty-five years. more...
Posted by: Gary at 08:48 AM | No Comments | Add Comment
Post contains 444 words, total size 3 kb.
September 06, 2005
Idiotic Bush-Bashing Meme of the Day: "Not enough troops for Katrina victims"
One of the loudest screeds from the Left these days is that because so many troops are "preoccupied" in Iraq, there are not enough soldiers to help its own citizens in the wake of Hurricane Katrina. James S. Robbins proves this charge false in his
NRO article from Friday
.
Do you know what percentage of active duty soldiers, reserves and national guardsman are deployed in Iraq?
10.2%. Yes, you heard that right.

So where are the rest? 751,000 (74.2 percent) are in the U.S. About half are active duty, and half Guard and Reserve. The Guard is the real issue of course — the Left wants you to believe that the country has been denuded of its citizen soldiers, and that Louisiana has suffered inordinately because Guardsmen and women who would have been available to be mobilized by the state to stop looting and aid in reconstruction are instead risking their lives in Iraq.

Not hardly. According to Lieutenant General H. Steven Blum, chief of the National Guard Bureau, 75 percent of the Army and Air National Guard are available nationwide. In addition, the federal government has agreed since the conflict in Iraq started not to mobilize more than 50 percent of Guard assets in any given state, in order to leave sufficient resources for governors to respond to emergencies.
So much for that one. Feel free to email that Robbins article to anyone you know who's still beating the drums over this myth.
Hat Tip to OpinionJournal.com's Best of the Web (3rd item down)
Posted by: Gary at 10:00 AM | No Comments | Add Comment
Post contains 278 words, total size 2 kb.
16kb generated in CPU 0.0159, elapsed 0.0618 seconds.
110 queries taking 0.052 seconds, 207 records returned.
Powered by Minx 1.1.6c-pink.