December 08, 2006
Boy Could We Use Someone Like Her At The U.N. Now
Former U.N. Ambassador Jeanne Kirkpatrick has passed on at the age of 80. What a breath of fresh air she was at Turtle Bay.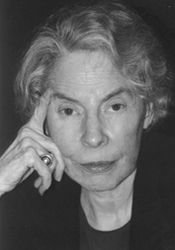 Another Ex-Donkey, Kirkpatrick gave a speech at the 1984 GOP Convention where she coined the term "blame America first" to describe the appeasement movement of squishy self-hating American Liberal Democrats who gathered for their own Convention in San Francisco one month before. A big chunk of that speech is posted at It Shines For All.
Here's a sample:
When our Marines, sent to Lebanon on a multinational peacekeeping mission with the consent of the United States Congress, were murdered in their sleep, the "blame America first crowd" didn't blame the terrorists who murdered the Marines, they blamed the United States.

But then, they always blame America first.

When the Soviet Union walked out of arms control negotiations, and refused even to discuss the issues, the San Francisco Democrats didn't blame Soviet intransigence. They blamed the United States.

But then, they always blame America first.

When Marxist dictators shoot their way to power in Central America, the San Francisco Democrats don't blame the guerrillas and their Soviet allies, they blame United States policies of 100 years ago.

But then, they always blame America first.

The American people know better.
The charge against the Liberal Democrat Party as blaming America first is now a generation old. As a not-yet-registered 17-year old Democrat in 1984, it made me wince. I didn't want to believe that. But the charge has stuck. Why? Because it's true. And it's rare to find anyone nowadays - not even most Democrats - who can credibly deny it.
When America loses such strong advocates for liberty and freedom throughout the world, it becomes a weaker nation unless others stand up to take their places.
Posted by: Gary at 12:00 PM | No Comments | Add Comment
Post contains 320 words, total size 2 kb.
Comments are disabled. Post is locked.
12kb generated in CPU 0.0083, elapsed 0.0525 seconds.
112 queries taking 0.0481 seconds, 203 records returned.
Powered by Minx 1.1.6c-pink.