November 08, 2006
Precincts And Recounts And Lawyers...Oh My
Until all outstanding races are confirmed, I don't see a reason to weigh in. I'll leave that to the punditry. That's their job. I'm off today with other priorities to deal with. Though all in all I can sum it up in a word...sucky.
However, I'm happy to say my number one priority - the re-election of Joe Lieberman and the subsequent rejection of the Kos-backed empty suit known as "the Freshmaker" by 50% of Connecticut's voters - has been accomplished. Congrats Joe.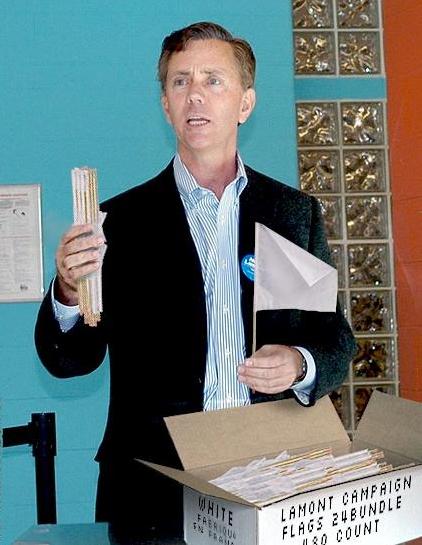 Sorry, Ned. Hey there's always Dodd in 2010.
UPDATE:
The Moose rubs it in on Lamont, but makes an important point:
A powerful message has been sent to the '08 wannabees who sent Negative Ned their money and support - you can pander to the nutroots to win primaries, but you must reach out to the vital center to win a general election (even in a deep blue state). More persuasion and less comment threads, please.
UPDATE II:
Interesting development, Rumsfeld is set to resign.
I suspect that if Bush appointed Lieberman as his replacement (in the spirit of bipartisanship, of course) then Gov. Rell would appoint Nancy Johnson to fill his term - giving her a job and keeping the Senate in GOP hands.
That would make me laugh out loud.
Posted by: Gary at 09:36 AM | Comments (5) | Add Comment
Post contains 229 words, total size 2 kb.
Posted by: Jenn at November 08, 2006 02:24 PM (QD9ey)
Posted by: Scrapiron at November 08, 2006 06:15 PM (Eodj2)
Posted by: Joe Liarman at November 09, 2006 11:12 AM (l9fZU)
Posted by: Norwich Eddie at November 09, 2006 03:00 PM (l9fZU)
Posted by: Gary at November 10, 2006 01:20 PM (GHbxU)
Comments are disabled. Post is locked.
19kb generated in CPU 0.0141, elapsed 0.0605 seconds.
114 queries taking 0.0528 seconds, 223 records returned.
Powered by Minx 1.1.6c-pink.